Blue Collar
(1978)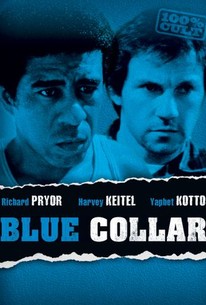 TOMATOMETER
AUDIENCE SCORE
Critic Consensus: Paul Schrader's Blue Collar offers a searing, darkly funny indictment of labor exploitation and rampant consumerism that's fueled by the outstanding work of an excellent cast.
Movie Info
Three guys, two African-American and one Polish, work on the production line in a Detroit automobile factory, and they are fed-up with the conditions. It dawns on them that their workers' union is doing them no greater good than their screwed-up bosses. So the trio pulls off a clumsy robbery at union HQ, in which they only gain access to some suspicious documents that point to union links with organized crime. Suddenly they're out of their league: violence, paranoia, rivarly, and recrimination erupt around them.
News & Interviews for Blue Collar
Critic Reviews for Blue Collar
Audience Reviews for Blue Collar
Paul Schrader's intelligent, well-observed, powerhouse drama about three Detroit production line automobile workers brilliantly played by Richard Pryor, Harvey Keitel and Yaphet Kotto, who all deliver extraordinary dramatic performances, these three close friends find bills piling up and pressures bearing down on them, so they decide to rob their corrupt union office, but trio end up empty handed with no money, but find a suspicious ledger that links the union with organized crime, they try to blackmail the union for cash for the return of the ledger and find that they are way out of their league. Suddenly once loyal friendships turns to paranoia, betrayal, and murder. A serious underrated classic gem, and one of the last Hollywood films to explore the lives of the working class man. Schrader makes his impressive directorial debut with engrossing motion picture, which has a gripping screenplay by Paul Schrader & Leonard Schrader. A must-see! Highly Recommended.
Danny Rovira
Super Reviewer
"Blue Collar" proves yet again that Paul Schrader is one of the greatest, most underrated film makers out there; a man whose films are so consistently overlooked that it seems almost intentional. "Blue Collar" is the result of Schrader's excellence in writing and directing, and the performances that he musters from actors Keitel, Pryor and Kotto do his script a whole lot of justice. His film isn't as much a lesson in how to break free of the chains that blue collar workers find themselves in as much as it is a study in what living in those chains is like. It's tense and honest American film making, and it strikes a chord.
Stephen Earnest
Super Reviewer
Director Paul Schrader's film explores a little of what was wrong with the working class in the late '70s. Inflation, unemployment, corruption and how floorworkers in the auto-industry were continually fucked over. The film gives platform to a rock solid performance by Richard Pryor, which always seems to go unmentioned when most reflect on his career. This is a heist film that shows who is really being robbed. This is not a pro-union film such as Norma Rae. Here, the Union is inaffective and indifferent, at first, until truths are exposed as the story develops. Richard Pryor, Harvey Keitel and Yaphet Kotto don't really come off as romanticized or even as anti-heroes, since their characters do drugs, cheat on their wives and commit petty crimes. When one of those petty crimes reveals more than expected, "THE MAN" works harder at tearing them apart than having them unite. Gritty character drama that deserves a little more recognition.
El Hombre Invisible
Super Reviewer
Blue Collar Quotes
There are no approved quotes yet for this movie.