Blue Crush
(2002)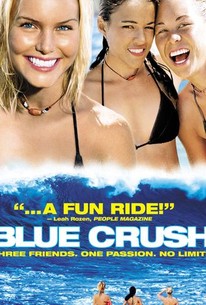 Movie Info
Nothing gets between Anne Marie and her surfboard. Living in a beach shack with three roommates including her rebellious younger sister, she is up before dawn every morning to conquer the waves and count the days until the Rip Masters surf competition. Having transplanted herself to Hawaii with no one's blessing but her own, Anne Marie finds all she needs in the adrenaline-charged surf scene ... until pro quarterback Matt Tollman comes along. Like it or not, Anne Marie starts losing her balance - and finding it - as she falls for Matt.
Critic Reviews for Blue Crush
Audience Reviews for Blue Crush
½
The viewer stands to gain little from watching this film. Its boring, recycled plot can be found in many sports movies. Athlete is good at his/her sport, gets distracted by life, is encouraged to go back to the sport, is skeptical at first, but then decides that the sport truly is more important and succeeds in the end. That's all there is here. So there's nothing unique or exciting about the core of the film, but hey, at least Kate Bosworth and friends spend half the film in bikinis.
Jay Hutchinson
Super Reviewer
½
Kate Skarratt: And when I tell you to go, you gotta go. You gotta paddle your little heart out. You can't hesitate, you can't pull back, you can't hold back. No fear. Alright? Blue Crush was a lot more entertaining than I thought it would be. The surf scenes are really well made and look great. I don't think Kate Bosworth is a great actress, but she's beautiful and isn't too bad in this one. The movie for me falls apart because it is over dramatic and most of the time pretty cliche. You can probably guess how the final scene will play out before the movie gets 15 minutes in. Another aspect I hated was the soundtrack. It was really annoying with horrible rap and pop songs and it kind of ruined the best parts of the movie for me. Every time there was a long surf scene they would play horrible music and totally demolish the scene. Not a horrible movie; just a predictable decent one.
Melvin White
Super Reviewer
A solid chick flick that delivers when it comes to the oceans and its small stories that flow with it's average dialogue. I can only mildly recommend this, but it is a good movie!
Blue Crush Quotes
| | |
| --- | --- |
| Eden: | These waves are for the big boys. |
| | |
| --- | --- |
| Anne Marie: | Penny didn't finish her homework. |
| Penny: | You weren't here to help me. |
| Anne Marie: | She's got to do her homework. |
| Eden: | Don't give us shit 'cause you were out there working it. |
| Anne Marie: | Shut up. |
| Lena: | Don't deny it. You were working it like a rib without the sauce. |
| | |
| --- | --- |
| Penny: | You were the one who made mom leave! You were screwing up all the time! |
| | |
| --- | --- |
| Anne Marie: | Don't worry, Penny. There's still plenty of time to get pregnant and go on welfare. |