Blue Crush 2
(2011)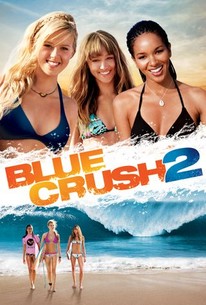 Movie Info
A champion surfer who never met a wave she couldn't conquer, California teen Dana (Sasha Jackson) leaves Beverly Hills behind for the adventure of a lifetime, and makes some remarkable new friends along the way. Dana's late mother grew up in South Africa, and kept a detailed diary about her childhood experiences. Inspired by her mother's words, the privileged teen rejects her father's requests to enroll in college, instead booking a flight to South Africa to walk the beaches she has read about since childhood. Her mother's dream was to surf the waves of Jeffreys Bay, and with a little help from some fun-loving friends, Dana prepares to fill in the missing chapter of the book that guides her voyage. ~ Jason Buchanan, Rovi
Critic Reviews for Blue Crush 2
Audience Reviews for Blue Crush 2
This direct-to-video offering isn't too bad. It's a pleasant teen drama, nothing too original or ground breaking, but I've seen worse. It's a story of teen angst (father-daughter conflict), competition, and confidence issues set against a backdrop of girls' surfing in South Africa. The lead, Dana, undaunted by any obstacle and pretty hot too, and her friend Pushy (last name galore? I don't get it either) pursue their odyssey together, so if you're a fan of female surfing, so-so hot girls, or even female empowerment, you may want to watch. They have a real community of free spirits there, symbolized by the Grateful Dead's "Truckin" being cranked out as well as gorgeous scenery throughout. The acting is better than the script, but the cast doesn't compare to Kate Bosworth and Michelle Rodriguez in the original 2002 film. There are plenty of deficiencies here and some needless subplots, but there are a lot worse ways to spend a little time than watching pretty girls surf.
Clintus Maximus
Super Reviewer
½
Haunted by the memory of her deceased mother, Dana leaves Malibu behind and heads to South Africa to fulfill her mother's dream of surfing Jefferys Bay. The movie was not that bad to me. Sure it isn't at all like the first film except that there's surfing of course but this movie to me was also inspirational and overachieving. Don't mind the acting because there's barely any, just concentrate at the story and enjoy the scenery it brings. This chapter tells the story of a young rich girl named Dana (Jackson) grieving over the death of her mother and absence of her father's love. She knows that her mom always dreamt of surfing Jeffereys Bay in South Africa so she decides to leave the security of her Malibu home behind and venture to Africa in order to fulfill her mother's dreams. Once there she meets two other young female surfers by the names of Pushy (Mathis) and Tara (Vinson). One, Tara, is a successful 'Roxy' surfer and the other dreams of being one. So Dana and Pushy decide to conquer their surfing dreams together, while some bitter rivalry ensues with Tara.
Blue Crush 2 Quotes
There are no approved quotes yet for this movie.