Blue Exorcist The Movie
(2013)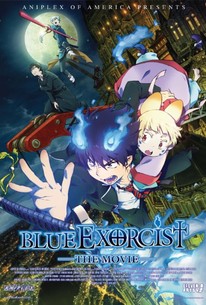 AUDIENCE SCORE
Critic Consensus: No consensus yet.
Blue Exorcist The Movie Photos
Movie Info
This August, Blue Exorcist fans will be treated to something special. Following their release announcement of the entire television series on video, Aniplex of America has just announced that Blue Exorcist: The Movie will debut in the US this August with English dialogue. Rin Okumura, Yukio Okumura and the rest of their friends return in this original story by Kazue Kato. A brief description about the movie, "Set at a time when True Cross Academy is in the midst of preparing for a festival celebrated every 11 years, a mysterious demon named Usamaro suddenly appears. Since Usamaro's appearance, strange events have been happening across True Cross Academy. It's up to Rin and the other exorcists to figure out what's going on before their city falls apart." The entire Blue Exorcist English voice cast will reprise their roles in this original story set for the big screen. There is no doubt this movie will provide a new experience for both fans who have enjoyed the Blue Exorcist TV series or who are just introduced to Blue Exorcist. (c) Eleven ARts
Critic Reviews for Blue Exorcist The Movie
There are no critic reviews yet for Blue Exorcist The Movie. Keep checking Rotten Tomatoes for updates!
Audience Reviews for Blue Exorcist The Movie
½
My previous ventures into a film adaptation based on a anime series were usually first exposures to certain properties. Blue Exorcist is a different story with me actually taking time to see the anime series. Overall I thought the show was decent and anyone wanting to know why I say that there's a link to a blog on my thoughts on the anime series at the end of this review. However, unlike the anime series Blue Exorcist The Movie is strictly for fans with little characterization, explanation on its world, and clumsy plotting will leave newcomer in the dust. Blue Exorcist The Movie is about Rin coming across a seemingly innocent child demon with no memories and soon realizes what the boy really is and later understands why he was sealed ages ago. Understanding the simplistic story doesn't require any level of knowledge on the source material. By removing itself from the anime series it could be view as its own creation following no continuity. However, what isn't as accessible is basically everything else. It doesn't bother to tell newcomers needed information about the world. You'll wonder why some exorcists carry guns while other don't will seem nonsensical. In the series it's explained there are several advantages and disadvantages to combat a demon something the film sheds no light on. Another issue are the large cast characters that go wasted. Some characters make pointless appearances in the films that chew up screw time. Aside from the protagonist Rin and the demon child he takes care off characterization is left as is. Fans will have an understanding of the familiar cast of characters, but newcomers on the other hand will be given virtually nothing on why they should care for these characters. When it comes to story Blue Exorcist has never been an expert on that front. It's plot formula is given in the form of a children story in the beginning if done right would have been foreshadowing events and nothing else. Unfortunately the story reiterates the children story several times eliminating any mystery and making itself predictable. This is the first time I've seen a movie literally spoiling the plot itself. Blue Exorcist problematic writing unfortunately is a trait that is retained too. Much like the series, the film excels in building up to a big fight by slowly escalating the stakes. Like the series, the film has a disappointing resolution to its conflict and lazy writing in pivotal moments. For example, Rin Okumura and others attempt to exorcise a phantom train. Whenever it appears on screen it is proven difficult to defeat. That is until lazy writing pops up with Rin Okumura demonic powers serving as an easy getaway when things get rough. What is done properly are the personality of the characters. They're down to Earth and easily relatable. The relationship are earnest and so are how they interact with one another. Most of the highlights come from the cast comedic antics often deliver laughs. Comedy relief is far superior to the film dramatic elements, but gets it across it points without any emotional gain for newcomers. Ending in a way that guarantees to adds nothing for either side as the ending made sure it leaves no impact on the series or the film itself. This is an often gorgeous looking animated film, one with incredibly detailed backgrounds (some of the urban settings are really and scenes at the festival are spectacular looking in the film), as well as well done characters. Colors are very intense at times, running the gamut from bright, vivid primaries to more subdued pastels. Line detail is very sharp and consistent throughout this presentation. Exceeding in taking you into another world. Action sequences come in short supply, but it does offer satisfy. The few action scenes sports plenty of visuals flare whenever the combatant attacks be it with guns, demonic blue flames, and a simple strike display considerable amount of damage to their surroundings. Hiroyuki Sawano score is cinematically excellent. His score sells the somber moments of the drama and the lighthearted tone of the comedy. Perfectly pacing itself with the events of the story and exceeding the film writing in strengthening the tone of scenes where the writing does no justice. Simply hearing UVERworld track "Reversi" brought greater sense of emotional closure than the film ending. Voice acting is all around solid maintaining the same charisma that could be found in the anime as well. These performances aren't movie level, but work because they stay in line with the anime series representation of the characters. Blue Exorcist The Movie certainly could have been better if its writing was on the same level as its technical aspects. Animation is smooth and the world design is intricate, voice acting is solid, and the soundtrack is absolutely perfect enveloping you into the mood. It's story is easily accessible for newcomers, but it's clearly a film just for fans of the anime series or manga. Unlike the anime, Blue Exorcist isn't given enough time to fix any of its shortcomings leaving everything introduce as is. Blue Exorcist Series Review (For Anyone Interested): http://www.rottentomatoes.com/user/951822/blogs/?id=778408
Caesar Mendez
Super Reviewer
Blue Exorcist The Movie Quotes
There are no approved quotes yet for this movie.