Blue State
(2007)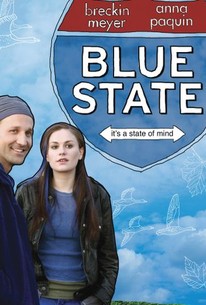 Movie Info
A disillusioned leftist pulls up stakes for the Great White North in this independent comedy-drama. It's 2004, and John Logue (Breckin Meyer) is a political activist working for the Democratic presidential campaign in Ohio. After a few drinks too many, John is interviewed on camera by a local broadcast journalist, and he announces that if George W. Bush is re-elected, he'll leave the country and move to Canada. A few days later, Bush narrowly defeats John Kerry, and John falls into a deep depression. After returning home to San Francisco, John ponders his alcohol-fueled pledge, and learns that a handful of leftists north of the border have formed a group called "Marry A Canadian," which provides contact with sympathetic singles willing to wed American expatriates hoping to escape the Bush regime and gain Canadian citizenship. John decides to give "Marry A Canadian" a try, and places a classified to find someone willing to split gas and keep him company as he heads for Vancouver. An attractive young woman named Chloe (Anna Paquin) contacts John and agrees to travel with him, but once they're on the road, he learns that politics are not Chloe's primary reason for leaving the States. Blue State received its world premiere at the 2007 Tribeca Film Festival.
Critic Reviews for Blue State
Audience Reviews for Blue State
½
I didn't expect much with this film, I thought it was going to be a bad film, however I was pleasantly surprised. I thought that this film was a different, refreshing take on romantic comedies. The cast here do a fine job, and it's what makes this film so special, and better than most. I felt that the film had a great story, and there were more good things going for this film, than bad. The cast are perfect in their roles, and the story itself is well done. I was surprised that this film really was better than what I'd think it is. I very much enjoyed the film, and thought it was a terrific romantic comedy, much different than every other film that came before it or after it. Blue State is a good film, and it has terrific directing. The film is a must see for people looking for a different type of rom-com. Blue State is a fine little film that if you come across, you should check it out. I found something refreshing here, something that doesn't follow the trend of so many other films in this genre. If you want something different, then give this one a viewing. I felt it was a very good film, one that elevated the rom-coms standards a bit more. I felt that this was one of the better films in the genre. The cast and directing make this one work well, and Blue State may surprise you, especially if you're not one to indulge in romantic comedies.
½
A little too much politics, but the love story was cute. : ) It was an alright movie.
Leigh Ryan
Super Reviewer
½
[font=Century Gothic]In "Blue State," Democratic Party activist and blogger John Logue(Breckin Meyer) not only has to suffer through John Kerry losing the 2004 election, but also being unceremoniously dumped and finding out his job as a graphic designer is not there when he gets back from sabbatical. Even worse, is his drunken promise that if Kerry did lose, he would move to Canada, made to a television news crew, no less. Luckily, Gloria(Adriana O'Neil) saw that and invites him up to Winnipeg where she runs a website that encourages marriages between Canadians and American expatriates, so the Americans can get their citizenship. Disgusted at his country and with nothing else on his plate, John packs up everything he owns, advertising for somebody to share the drive which nets him Chloe(Anna Paquin). Along the way, John has one stop planned, to see his parents(Joyce Krenz & Richard Blackburn).[/font] [font=Century Gothic]"Blue State" is an unoriginal, predictable and broad road movie with an unappealing lead character, a fanatic(The problem with democracy is that people are always upset when the electorate does not do exactly what is expected of them) who is pretty much motivated by sex in his going to Canada and his choice of companion. Instead of intelligent conversation(especially in the general give and take between two people have just met), there is just shouting down between between two sets of people of opposite viewpoints totally convinced they are each right. Not faring any better are the Canadian characters in the film but at least the Naked News is referenced. While I have no problem with anyone relocating to another country, why leave San Francisco, one of the most liberal cities with an NHL franchise less than an hour away. And how can you bring up Winnipeg without mentioning Guy Maddin? [/font]
Blue State Quotes
There are no approved quotes yet for this movie.