Blue Streak
(1999)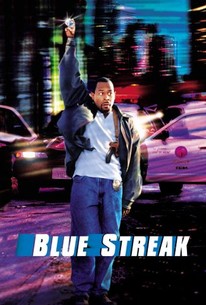 Movie Info
Miles Logan is a talented jewel thief who is involved in a $20 million jewelry heist that goes bad, and he is forced to hide the precious diamonds at a construction site. Three years later, Logan is out of jail and returns to pick up his loot. One problem: the site where he hid the diamonds is now an L.A. police precinct. To recover his stash, Logan impersonates a detective and with his rookie partner in tow, finds himself in the midst of drug busts, car chases and robberies. Using his criminal expertise to solve case after case, Logan inadvertently wins the admiration of his "fellow cops" as he tries desperately to recover his stolen diamonds.
News & Interviews for Blue Streak
Critic Reviews for Blue Streak
Audience Reviews for Blue Streak
½
Miles Logan: Carlson. I've got something to tell you. I'm not from West Covina. I'm from Internal Affairs.  "He's a cop that's not." Blue Streak is a likable and entertaining action comedy. No I know what you're thinking. How, it has Martin Lawrence in it? I'll be the first to say that the guy makes a lot of shit and that he isn't that funny. But every one in awhile he starred in decent movies, such as Life. Blue Streak is another one of those decent films he starred in. It's funny and Martin Lawrence isn't too ridiculous to where it completely overpowers everything else that is going on.  At the start of Blue Streak, Miles and his fellow robbers are heisting a diamond. When Miles gets backed into a corner with the cops, he decides to hide the diamond and get it once he gets out of prison. So he hides it in a building that isn't done being built yet. Two years later, when he gets out of prison, he goes back to that building, and it is a police station. Now he has to pose as a detective in order to get the diamond back. A lot of what goes on is predictable and unoriginal, but it is all done in a way that makes it feel fresher than it really is. Blue Streak is one of those movies that I've seen many times, and can watch whenever. You don't have to think too much while watching, and it is an enjoyable time. Plus Dave Chapelle is always worth watching and he plays Miles' driver, Tulley, and just happens to be the funniest thing going on in the movie. Even if you don't like Lawrence, don't automatically assume you won't like this. I don't really care for him, but this is a movie I can say I like. I'm not going to lie and say that this movie is anything special, but it is definitely worth a watch.
Melvin White
Super Reviewer
Funny comedy about a robber who hides the stolen diamond then finds that they've built a police station where he hid it. He has to pretend to be a cop to get to the diamond.
Candy Rose
Super Reviewer
Before watching "Blue Streak," I had heard that it wasn't that good of a movie, but I knew that since it has Martin in it that it had to at least have a few funny parts, and I was right. Miles Logan (Martin Lawrence) is a jewel thief who just got out of prison. He pretends be a cop in order to try and find the jewel that could make him millions of dollars richer. But it won't be as easy as he first thought it would. Since I had heard so many not so rave reviews about "Blue Streak," I wasn't really expecting that much out of it. There are a few parts that are flat out hilarious and the movie itself is interesting enough even when it's not funny. If you like Martin in other movies such as "Nothing To Lose" or "Big Momma's House," give "Blue Streak" a chance. NOTE: That was my Amazon review from the year 2001. I've always liked Martin.
Jason Owens
Super Reviewer
Blue Streak Quotes
| | |
| --- | --- |
| Miles Logan: | Its like leaving candy around me, its not gonna be alright I'm gonna (chomping teeth) chomp it up! |
| Miles Logan: | Its like leaving candy around me, its not gonna be alright I'm gonna [chomping teeth] chomp it up! |
| | |
| --- | --- |
| Miles Logan: | You don't wanna mess with him! |
| Tulley: | Yeah! Imma rip you lips off, and kiss my ass with them shits! Imma rip yo tung out, and wipe my balls with em'! |