Blue Sunshine
(1976)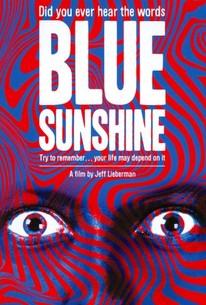 Movie Info
The frightening flashbacks of a group of LSD users cause them to commit murders. Only one person who understands the crimes can help prevent more of them from occurring, as he was one of the group that experimented with the drug as a college student.
Critic Reviews for Blue Sunshine
Audience Reviews for Blue Sunshine
½
*** out of **** If there was ever a film to truly frighten the acid-heads and the former acid-heads alike, it would be "Blue Sunshine". A sort of cult horror flick and classified "drug movie"; it will certainly tap into the greatest fears of just about anyone who has ever used LSD. I can't say much from experience, since I've never tried the drug (or fooled around with any drug, for the matter), but I do know that as a movie, it delivers on most of its promises. It's whacky and weird, although not as over-the-top as I was expecting. It's tame but at the same time wild. In that sense, it exists in its own world; which is where it gets its cult status. Some people succumb to the world and find themselves immersed in it; others see nothing but obvious weakness. That's where the flaws - which are undeniable - begin to shine through. Luckily, I'm in the former category of people in that I honestly enjoyed the thing for what it was. At a party of mostly young men and women, one male member goes berserk when his false hair is ripped off revealing his almost completely bald head. He then kills everyone but one young man, Jerry Zipkin (Zalman King), who is accused of the murders when the real killer is hit by a truck in the middle of the road. To prove his innocence, Jerry - with the help of his girlfriend - must find out the source of his former friend's randomly psychotic behavior. He traces it to a politician currently in office who distributed a new form of acid called Blue Sunshine to a group of college kids ten years prior. Meanwhile, everyone who took the stuff also starts losing their hair; eventually risking a similar violent reaction to that of Jerry's pal. Oh, and the stuff apparently reduces your tolerance for disco music of a loud variety. Cult films are often appealing because they are simple, a lot of the time based on senses like sight and sound alone, and can be viewed late at night without much trouble. You can doze off and you won't miss much. "Blue Sunshine" is like the rest of them; the good cult movies, that is. But it also has a little something extra; a mystery plot that is actually consistently engaging if not overly obvious. Honestly, I've seen worse from films that take themselves completely seriously. For some, that won't be enough to justify the lack of great character development and plotting, but I'd advise you not to expect finesse going in to begin with. It's a well-crafted film, just not a spotless one. Jeff Lieberman, the director, has gone on to direct a few more films after this one such as "Squirm" in 1976 and "Satan's Little Helper" in 2004. He seems to possess the same kind of macabre humor sensibility that most solid horror directors do; even though I don't view this film as a straight-up horror outing. Its audience is primarily made up of horror fanatics, although the only things "horror" about it is the slasher film aesthetic of the plot and the lingering ambiguity. There isn't too much blood although there are a few death scenes, most of them fairly discreet and non-graphic. I smell a low budget, but thank God it's not an artistic handicap. But here's why it works: it's respectively strange. The things that you expect from a proclaimed "cult film" are pretty much all here: a trippy soundtrack, a peculiar editing job, and a twisty plot. There are some great scenes such as when the characters are in a state of extreme psychological turmoil. They seldom over-act on their part, and we actually get a decent approximation of what it might like to be a former acid-head getting a taste of their own mind-fucking medicine. I like horror films that are also cautionary tales, and "Blue Sunshine" is part thoughtful genre picture and part escapist film. I do not mind it and I was very entertained throughout. I'm a sucker for the "old" feel of a 70's or 80's film (or any film before the current age, really), so you can imagine I ate this one right up. I'm glad I've never tried acid, or had bad acid; because I love me some good disco music.
Ryan Marshall
Super Reviewer
½
Ten Things You Should Know About LSD 1. If you enjoy orgasms, you might enjoy the effects of LSD 2. LSD is non-toxic. Unlike alcohol and nicotine, LSD doesn't damage your body. 3. Swiss chemist Albert Hoffman describes it as "medicine for the soul". 4. Many drugs take a gram or two to be effective. A hit of acid might only contain 100-200 millionths of a gram each. 5. Unlike heroin, nicotine or television, LSD is physically non-addictive. 6. Most of the scientific research done on LSD was sponsored by the US Army and the CIA. 7. Acid is cheap. 8. Acid demands respect. 9. Choose a setting where you're comfortable. 10. Has had a big impact on pop culture because of what it can do for creativity. Blue Sunshine is a horror movie that seems to have been made to scare former hippies. It borders, at times, on the silliness of propaganda that Reefer Madness had towards marijuana use, but not necessarily preachy. Not a terrible film, but does it did test my patience during some sequences that were too kitschy for its' own good. Interesting enought to rent, but wouldn't feel the need to rush out and find a copy. Bad acid will make you go bald, drive you insane, and drastically reduce your appreciation of loud disco music.
El Hombre Invisible
Super Reviewer
A generally silly yet entertaining movie and commentary of the 60s generation and the consequences of its actions. It's 70s cinema that didn't age well, but that doesn't mean it's not fun to watch. When the...infected go nuts on their respective killing rampages it's pure gold. Lieberman does a great job of trying to set the audience off as well--namely before said rampages.
Michael Gildea
Super Reviewer
Blue Sunshine Quotes
There are no approved quotes yet for this movie.