Blue Thunder
(1983)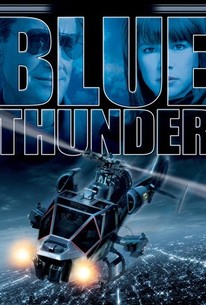 Movie Info
A former Vietnam chopper-pilot is now in charge of a special high-tech helicopter that was designed to quell possible terrorist attacks during the 1984 Olympics in Los Angeles. A bitter enemy makes plans to destroy this high-tech copter and bring about an armed takeover of the U.S.
Critic Reviews for Blue Thunder
Audience Reviews for Blue Thunder
Blast from the past,this superb action movie from 1983 still stands tall.Yes its a little dated but the theme and story line stand up well even now.Roy Scheider give a wonderful perfromace as frank murphy a police helicopter polet with a dodgy past.What is the best thing about the movie is the dog fight in the last 30 mins or so.Its well done and with no CGI at the time makes the stunts so more incredable.Need to see to believe and even todays standed its still brillant and no film that i seen as come close.If you not seen it yet get a copy now and if you got a blu ray player see it in that its so cool...
Brian De Guelle
Super Reviewer
½
Not a bad flick. This was good for the days when everything was about a super powered vehicle of some sort. The story is good and the acting wasn't half bad.
Jason Spencer
Super Reviewer
Even when I was a teenage boy, I still found this dull. Basically a helicopter gunship goes round shooting things and erm...well, that's about it. There isn't even that much action.