Blue Valentine
(2010)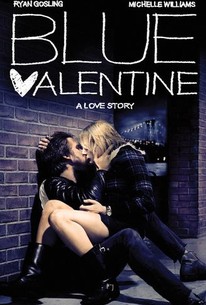 TOMATOMETER
AUDIENCE SCORE
Critic Consensus: This emotionally gripping examination of a marriage on the rocks isn't always easy to watch, but Michelle Williams and Ryan Gosling give performances of unusual depth and power.
Movie Info
A complex portrait of a contemporary American marriage, "Blue Valentine" tells the story of David and Cindy, a couple who have been together for several years but who are at an impasse in their relationship. While Cindy has blossomed into a woman with opportunities and options, David is still the same person he was when they met, and he is unable to accept either Cindy's growth or his lack of it. Innovatively structured, the narrative unfolds in two distinct time frames, juxtaposing scenes of first love and youthful sexuality with those of disenchantment and discord.
Critic Reviews for Blue Valentine
Audience Reviews for Blue Valentine
½
The careful pacing and three-dimensional characters are what makes this drama so realistic and involving, a wonderful and sincere portrait of a relationship in collapse and how the weight of real life can irremediably damage the happy-end dream for a couple living together.
Carlos Magalhães
Super Reviewer
Back in 2004 when Ryan Gosling was still a relative unknown, he caught a break by starring in a little love story called The Notebook. It was a huge hit among the ladies and he charmed the knickers off many a bored housewife. Needless to say, Gosling became a star overnight and he developed a very enthusiastic female fanbase. Try asking a lot of women, or even some men for that matter, what they think is a good romantic movie and The Notebook will generally get a shout-out. As a little social experiment, I'd like to offer up an alternative to those who love Gosling, The Notebook and those who love to see romance triumph over adversity by suggesting they watch Blue Valentine. It's the polar opposite of that sentimental and clichéd pap and could induce nightmares to those of a more sensitive nature when it comes to how relationships are depicted on screen. Plot: Dean (Ryan Gosling) and Cindy (Michelle Williams) are a young, working class couple who finds themselves at a testing juncture in their marriage. Cindy has ambitions and looking for more from life while Dean has remained the same person and shows little chance of changing. This puts a lot of pressure on their relationship as resentment and bitterness begin to appear and the dissolution of their marriage becomes an inevitability. Apparently borrowing from the Tom Waits album of the same name, Derek Cianfrance's Blue Valentine is a perfectly fitting title. It's a contradiction in terms of how something can be so sweet and beautiful yet also so cruel and depressing. That is the tone and exploration of Cianfrance's tragic love story. As we are introduced to the lives of Dean and Cindy we witness their courtship and their marriage while it's juxtaposed with their breakup. The earlier moments of their relationship is filled with happiness, hope and genuine love and affection while the latter times are so deeply painful and emotionally devastating. The real stroke of genius here, though, is in Cianfrance's decision to avoid a linear structure. He intercuts with opposing time-frames which allows him to dissect the whole meat and bones of these two characters' lives together with a detailed analysis of events and behaviours. As a result of the non-linear approach we, as viewers, are taken on a rollercoaster of emotions and given a fly-on-the-wall experience of this affair that's told with an unflinching realism. Alongside co-writer's Joey Curtis and Cami Delavigne, Cianfrance achieves a meticulous balance to the film. It could have been so easy to side with one character or the other but as we see these people (warts and all) we come to understand that neither one of them is solely to blame for the breakdown of their relationship. I found myself taking it from a male perspective and seeing Cindy as cold, distant and unloving but then I could see it from her perspective and how Dean refused to grow or challenge himself. As Cindy wants more for her life and career, Dean is content with simply being a husband and father. Neither one is in the wrong but, unfortunately, they become incompatible due to their individual wants and differing needs. In order for it all to come together, though, it demands commited performances. And that's exactly what we get from Gosling and Williams. The verisimilitude of this relationship is owed to the magnificent work that two leads put into it. In order to achieve the requisite authenticity, Gosling and Williams improvised a lot of their lines and even rented an apartment together for a month where they shared the stresses of daily life by living within the same meagre budget of their characters, going shopping, cooking meals, sharing the same bathroom and exploring different ways of picking fights with each other. Their commitment and approach to the roles really pays off and they are entirely convincing in their fluctuating ranges of emotion. Williams was rightly afforded an Oscar nomination for her work (losing out to Natalie Portman for Black Swan) but Gosling was disgracefully overlooked. This is one of those films where the performances are inseparable and it remains some of the very finest work both Williams and Gosling have delivered. A very bleak but tender anatomy of a relationship that is both heartwarming and heartbreaking. Boasting extraordinary performances from the leads, it's so sobering and realistically depicted that it's uncomfortable to watch. Never have I seen a relationship on screen that's depicted with such brutal honesty with a simple viewing being enough to save some couples a fortune in relationship counselling. It may not be the best film for a romantic evening with your other half but it's the best film about the challenges that a long term relationship brings. Outstanding work by all involved. Mark Walker
Mark Walker
Super Reviewer
Brilliant drama, Blue Valentine manages to really set the tone of an atmospheric picture that is elevated by a strong cast of talented actors that simply possesses great chemistry on-screen. Directed by Derek Cianfrance, a director who is skilled at crafting, thought provoking, absorbing dramas, successfully delivers a film that is powerful, and boasts a great story that is only elevated by its cast. That's what makes this movie work well, the simple story, which is basic, and it is build upon, these two actors who really stand out due to the fact that they're superbly talented and bring out the best elements. The film is well paced, and though it is a bit slow, you are simply captivated at what the characters go through as they're very well fleshed out, and you care for both of them. Also I found the film had a melancholic atmosphere that lingered throughout, therefore it brought you deeper into the film's story. Cianfrance is a talented director, and here he displays a talent to tell a powerful, simple story that definitely manages to stand out over really big budget movies that try to captivate the viewer with big effects, poor acting and clichéd plots. However Blue Valentine is a film that breaks the cycle, and offers you something truly different. By telling a simple story, Derek Cianfrance goes a different route, and he tells a real story that follows two people that can really be anyone. His style is terrific, his sense of filmmaking is unique an unmatched, and he would later perfect his skills on the masterpiece, The Place Beyond the Pines. If you enjoy an engaging drama that tells a great story, you definitely shouldn't pass up Blue Valentine. This film stands out among other genre films simply for the fact that it has a powerful story and great performances.
Blue Valentine Quotes
| | |
| --- | --- |
| Cindy: | I never want to be like my parents. I know they must've loved each other at one time right? To just get it all out of the way before they had me. How do you trust your feelings when they can just disappear like that? |
| | |
| --- | --- |
| Dean: | Tell me how I should be. Just tell me. I'll do it. |
| | |
| --- | --- |
| Dean: | Come on baby, we're going to the future. |
| | |
| --- | --- |
| Cindy: | How do you trust your feelings when they can just disappear like that? |