Blue Velvet
(1986)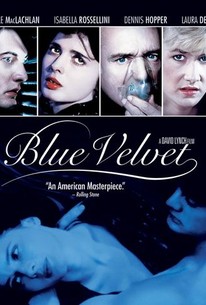 TOMATOMETER
AUDIENCE SCORE
Critic Consensus: If audiences walk away from this subversive, surreal shocker not fully understanding the story, they might also walk away with a deeper perception of the potential of film storytelling.
Movie Info
Director David Lynch crafted this hallucinogenic mystery-thriller that probes beneath the cheerful surface of suburban America to discover sadomasochistic violence, corruption, drug abuse, crime and perversion. Kyle Maclachlan stars as Jeffrey Beaumont, a square-jawed young man who returns to his picture-perfect small town when his father suffers a stroke. Walking through a field near his home, Jeff discovers a severed human ear, which he immediately brings to the police. Their disinterest sparks Jeff's curiosity, and he is soon drawn into a dangerous drama that's being played out by a lounge singer, Dorothy Vallens (Isabella Rossellini) and the ether-addicted Frank Booth (Dennis Hopper). The sociopathic Booth has kidnapped Dorothy's young son and is using the child as a bargaining chip to repeatedly beat, humiliate and rape Dorothy. Though he's drawn to the virginal, wholesome Sandy Williams (Laura Dern), Jeff is also aroused by Dorothy and in trying to aid her, he discovers his dark side. As the film nears its conclusion, our hero learns that many more indivduals are tacitly involved with Frank, including a suave, lip-synching singer, Ben (Dean Stockwell), who is minding the kidnapped boy. Director Lynch explored many similar themes of the "disease" lying just under the surface of the small town, all-American faade in his later television series Twin Peaks (1990-91). ~ Karl Williams, Rovi
Critic Reviews for Blue Velvet
Audience Reviews for Blue Velvet
The debacle of adapting Frank Herbert's Dune in 1984, is now pretty much common knowledge among film enthusiasts. To put it plainly, it didn't do well at the box office and was even tagged with the moniker of being the Heaven's Gate of science fiction films. So upset was David Lynch with studio interference and losing final cut of the film that he vowed never to work with a big budget again. He regrouped, however, and two years later he delivered one of his own original scripts in the form of Blue Velvet. Not only did it put him back on the map but it's still widely regarded as one the best films from the 1980's. Jeffrey Beaumont (Kyle MacLachlan) is an impressionable young man who return's back to his home town to care for his ill father. After a visit at the hospital he takes a short cut through an abandoned field and finds a severed human ear. He takes it to the police before embarking on his own investigation. This leads him to nightclub singer Dorothy Vallens (Isabella Rossellini) and a criminal underworld that he had no idea existed. The opening of the film has such a striking beauty to it with crisp and colourful cinematography by Frederick Elmes while Lynch doesn't mince his words on his message. White picket fences with vibrant red roses, a fire truck strolls by with a waving fireman while a man hoses down his manicured garden. It's quaint and calming imagery. Suddenly, the hose gets stuck on a branch, the water splutters and the infuriated gardener suffers a stroke. He falls to the ground while a toddler looks on and a dog's only interest is in catching the water from the hose which is still in the grasp of the fallen gardener. It's here that Lynch turns his camera to the grass and the dark underbelly of this picture-perfect, suburban lifestyle is exposed in a colony of insects. We then cut to a billboard saying "Welcome to Lumberton" - where it is later described as "a town where the people really know how much wood a woodchuck chucks". There's a playfulness on show and Lynch imbues the whole affair with satire and a deep cynicism. From here, Lynch takes his time with his narrative - which, when you look at it now, is deceptively simple. He uses a very linear approach throughout the beginning of the film. Lumberton is a middle class suburbia where seemingly everyone is pleasant and there's a feeling of safety. It has an air of mystery to it, though, after the discovery of the severed ear. It's from the investigations and uncovering the truth that the film gets more bizarre by the minute and the Lynchian weirdness begins to creep in. This is predominantly with the arrival of Dennis Hopper's Frank Booth. From the plethora of Lynch's obscure and unhinged characters, Frank is the one that seems to get the most attention. It's not hard to see why, though, as this deranged, amyl-nitrate huffing psychopath is a character that lingers long in the memory. It's an Oscar worthy performance from Hopper but, strangely, the academy choose to nominate him in the supporting category for Hoosiers. As good as he was in that film, Frank Booth has become one of, if not, the most iconic performance of his career. For all it's strangeness, though, effectively Blue Velvet is a film-noir. It has all the hallmarks of the sub-genre but, as is usually the case, Lynch puts his own spin on the proceedings. It's dark, gloomy and hugely atmospheric. It's also not without its disturbing elements as it delves into the darkest recesses of the psyche and explores the psychosexual motivations of its characters - which is hinted at with a quote from Laura Dern's angelic Sandy - "I can't figure out if you're a detective or a pervert". This line perfectly sums up the juxtaposition that courses throughout the film. Lynch is interested in capturing the different extremes; in society, human relationships and Freudian and Oedipal subconscious desires. All the while, he keeps us reminded that dreams can so easily lead to nightmares. If there's one moment that showcases Lynch's ability to project mood and capture the extremes it's with a cameo from Dean Stockwell as the suave, glad-handling dandy, Ben. His miming rendition of Roy Orbison's In Dreams using a worklight is simply one of the best scenes Lynch has ever put onscreen. It's at once hilariously comical yet also surreal and deeply fuckin' creepy. A startlingly beautiful yet genuinely horrific tale and proof that Lynch is probably the most subversive of filmmakers working today. This erotic and perversely self indulgent piece of work remains one his best films. To think that this came out in the mid 80's is proof of Lynch's untamed brilliance and majesty. Mark Walker
Mark Walker
Super Reviewer
½
A young man from the small town of Lumberton stumbles upon a severed human ear and his curiosity leads him down the rabbit hole of violence and depravity surrounding a mysterious criminal known as Frank. Blue Velvet is David Lynch skilfully subverting the stereotypes of middle America in this reinterpretation of Film Noir transposed to its unseen, dark underbelly. The superficial gloss of the white picket fences and bonhomie of American suburban life disguises a nightmarish underworld of brutal crime and corruption which is discovered by fresh-faced Kyle MacLachlan and all-American high school girl Laura Dern and Lynch delights in peeling back the layers of respectability to expose the horrors the human animal is capable of. Dark, brooding and strange, it's not as oddball as some of his more obtuse work but this is classic Lynch that has obviously had an influence on the work of the Coen brothers. A bit of a cult classic and must see for fans of off beat thrillers in general and David Lynch in particular.
½
Lynchian thrill at its best, this is just one of director David Lynch's heralded magnum opuses. The film has the same overall tone of creepiness, insidious intent, and villainy, on an under your skin level, as many of his other films. Described as a film about the deep recesses of sadomasochism and crime that crawls beneath sugar sweet suburbia, I find it to be much more than that. That description makes it seem that suburbia is placed in the forefront, and all the intermingling characters are outsiders in the world that villain Frank builds around victim Dorothy, when in reality no one in this film is anywhere near normal. College student Jeffery (McLachlan) is based in prep but veers more toward strange voyeur throughout most of the film. He is the main representation of normal in the film, and yet he time and again does strange, daringly stupid things in his quest to help Dorothy. Dorothy is played by Isabella Rossellini in yet another turn as an obsessed, anachronistic character. She plays the victimized mother so well and especially comes off as vulnerable and wronged against Dennis Hopper's Frank. Hopper has always been able to play the misinformed, violent, beyond cruel character so well, and here he is at his peak. Not only does he affront motherhood, family, and the supposedly suburban way of life, but he is also unaffected by death and sexual coercion. I have never seen a grosser, more ambivalent villain in film history, and there is no one else to play this character than the incomparable Hopper. The tension that is built up through this thrilling neo-noir is palpable, only broken when Jeffery goes back into the normalcy that he thought always preceded him, but now is tainted by his knowledge of Frank and the town's seedy underbelly. Besides being bizarre plot wise, and through these dense characters, Lynch also lets the town hang overhead as its own sick and dispassionate witness to everything that happens, not stressing how false its ideals are, but constructs it to mirror two different worlds balanced by naiveté. These kinds of films, strange and non-inclusive, usually generate a lot of negativity, but when you watch it, it is gothic and has a feeling of otherness that cannot be replicated. Lynch's vibe in these films make him the great director that he is, and there is no better example as violence as a mechanism for creepy than this peerless film.
Spencer S.
Super Reviewer
Blue Velvet Quotes
| | |
| --- | --- |
| Ben: | Alright Frank, let's drink to your fuck. |
| | |
| --- | --- |
| Sandy Williams: | It's a strange world, isn't it? |
| | |
| --- | --- |
| Jeffrey Beaumont: | [as Frank fondles Dorothy in front of him] Leave her alone! |
| | |
| --- | --- |
| Frank Booth: | Heineken? Fuck that shit! Pabst! Blue! Ribbon!!! |
| Frank Booth: | Heineken? Fuck that shit! Pabst! Blue! Ribbon! |