Boarding Gate
(2008)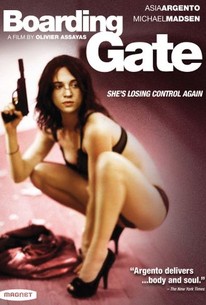 TOMATOMETER
AUDIENCE SCORE
Critic Consensus: Boarding Gate has little substance beneath its faux-thriller surface, and marks a step down from director Olivier Assayas' usual work.
Movie Info
From director Olivier Assayas comes this erotic thriller starring Asia Argento as Sandra, a former prostitute, and Michael Madsen as Miles, her onetime pimp-turned-high-powered businessman. Brought back together after a separation, Sandra and Miles are reunited when Sandra returns to Paris after an extended absence. Despite the fact that neither of the two former lovers are the same people they were back in the day, their kinky sexual relationship is nonetheless rekindled. It seems that some time long ago, financial promises were made before some misdeed drove the pair apart. Meanwhile, Sandra has made it her mission to open a Beijing nightclub, and Miles is about to sell off his business to Singapore interests. Miles couldn't care less about Sandra's dreams of owning a nightclub, but now that his divorce has been finalized he's eager to resume their steamy relationship. Tempted by Miles' money but financially comfortable thanks to her work with an import company run by shady couple Lester (Carl Ng) and Sue Wang (Kelly Lin), Sandra secretly pulls down some extra income by moving drugs through the married couple's highly profitable company. Before long, sexual intrigue and a botched drug deal combine to complicate matters for all involved. Boarding Gate screened at the 2007 Cannes Film Festival. ~ Matthew Tobey, Rovi
Critic Reviews for Boarding Gate
Audience Reviews for Boarding Gate
½
At firt i didnt wanna see this, i wasnt interested in this at all and i should have stuck to that because this movie is extremely shit! i gave it 1 and half stars just because there was a shooting and murders that made it a little bit interesting but the rest shit! The sotryline is shit and so shit that even at the end your wondering what the hell that movie is about ! not worth the time ir effect crap!!
Film Crazy
Super Reviewer
Wow I am seriously wondering why exactly I watched this movie. I guess this is the problem of having Netflix instance access. Anything with an actor I like ends up in my queue. I saw Michael Madsen and was like oh yeah lets watch that...I feel dirty first off. The first movie I remember of Asia was Fast and Furious, then Land of the Dead. This is a FAR FAR fall from those. Will have a hard time looking at Mr Blond again. Really not sure how a person should feel after watching this. It starts with Madsen and a gun at a range. I'm like this has potential to be violent and good times. Guess I should have read what it was going to be about first. Then comes Asia as some kind of...whore/ex-whore breaking it off with Madsen. Next thing you know there is a drug deal gone bad and she's back talking Madsen supposedly ending it with him but sure enough her actions don't back up her stance. She talks a good game, being all hard and wanting to let him go but she is like a hooker that just can't say no when someone gets aggressive with her. It's like a really twisted perverse love story only I don't think there is any love there. Watching the story unfold I'm at a loss for words. There is a twist I didn't see coming to where she starts a new life. it's kind of like one of those dark flicks like Get Carter remake with Stallone or 8 mm. It's real dark and leaves you feeling seriously dirty. There is also the simple fact that at times there is like chinese or French spoken and unfortunately there are no subtitles. This has the habit of leaving one feeling lost sometimes. This isn't to say that the dialogue is all that convincing or moving. It merely seems to be lines strung together to, I guess help the plot along. It's not that they characters don't look natural saying the lines or the things they do, it's just the way they deliver them feel like there is no heart behind them and someone is coaching them. I find it seriously hard to get invested in this film as I don't really feel any pull or meaning behind it. I guess this was suppose to be something to show off Asia's acting chops and it feels almost too natural for her to carry on the way she does. Something to be said for an actor/actress to act like they aren't acting at all but I think it adds to the "cheap" feel of the characters. Almost feel like she really is a whore but then again who in Hollywood isn't?
Aurelius Duchtius
Super Reviewer
Meandering thriller with much style but little substance. Argento may have a smouldering beauty but her acting leaves much to be desired and Madsen is unconvincing.
Gordon Anderson
Super Reviewer
Boarding Gate Quotes
There are no approved quotes yet for this movie.