Bobby Deerfield
(1977)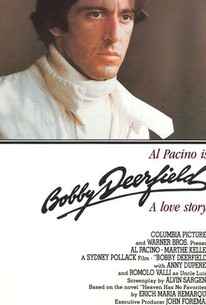 Movie Info
Starring Al Pacino and directed by Sydney Pollack, Bobby Deerfield stars Pacino plays the title character, a reckless race car driver. As his fame grows, Bobby becomes increasingly full of himself, which seriously jeopardizes his performance on the track and his private life. Marthe Keller plays Bobby's aristocratic, enigmatic lady friend, whose tragic secret sets the stage for melodrama. Also on hand is Ann Duperey as a racetrack groupie. Originally released at 124 minutes, Bobby Deerfield was pared down to 99 minutes by director Pollack for cable-TV consumption.
Critic Reviews for Bobby Deerfield
Audience Reviews for Bobby Deerfield
½
A bizarre misfire from a talented line-up of artists. With such a towering amount of potential, it is peculiar to see Bobby Deerfield as what it is - a mess. Lacking in any sort of distinguishable narrative or character thread, the movie plods off in numerous directions and leaves the audience behind. The most interesting aspect of it is Al Pacino's understated acting in the title role. Pacino has stated that out of all the roles he's played, this one is the closest to himself in reality. It is evident that he has a deep understanding of this character, but his depth and nuance is lost in a chaotically executed picture.
Bobby Deerfield Quotes
There are no approved quotes yet for this movie.