The Bobo
(1967)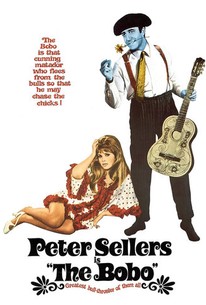 Movie Info
Peter Sellers stars, as the tagline states, "as that cunning matador who flees from the bulls so that he may chase the chicks!" Juan Bautista (Peter Sellers) is an inept matador who wants to be a singer. Francisco Carbonell (Adolfo Celi), the owner of a local Barcelona night spot, offers Juan a singing contract for a week --the only stipulation being that he has three days to seduce Olimpia Segura (Britt Ekland), the "most desirable woman in Barcelona." The bumbling matador tries a series of half-baked lovemaking techniques that, amazingly, get Olimpia to come around. But when Olimpia discovers that Juan wanted to seduce her merely to get a singing job, Juan finds that avoiding charging bulls is a much safer vocation than dealing with an irate Olimpia.
Critic Reviews for The Bobo
Audience Reviews for The Bobo
½
"Once you've seen one blue singing matador, you've seen them all." Well-written con job with surprising conclusion as Peter Sellers attempts to ingratiate himself to man-eating gold-digger Britt Ekland in order to secure an engagement as a singer at the most popular music hall in Barcelona. What nationality didn't that man take on?? His physical skills are kept to a minimum but that allows his deftly wry timing and mannerisms to shine more, and Ekland is great as a petulant, coquettish tease. (One look into those Swedish eyeballs and no wonder he married her in real life.)
Doctor Strangeblog
Super Reviewer
½
Peter Sellers' parade of bumbling, accented caricatures showed signs of fatigue with this second-rate comedy. Sellers is Juan Bautista, a failed matador who wants to try a new career as a singer. He pleads with a Barcelona club owner (Adolfo Celi) for bookings but is refused. However, the lecherous man soon reconsiders -- he promises a week of dates if Bautista can seduce gorgeous temptress Olimpia Segura (Britt Ekland, then Sellers' wife) within three days. Until now a pitiful fool, Bautistia suddenly becomes wily and crafts a brilliant con to win her attention. He poses as the emissary of a rich Count who longs for gold-digging Olimpia's company, and then arranges dates that are only excuses to spend time with her himself. Much of the film dwells on this bait-and-switch game wherein Bautista fumbles for ways to explain the Count's absence while still keeping Olimpia on the hook. Menacing Celi makes a wonderful adversary for Sellers, but is sadly underused. Meanwhile, the first act wastes a large chunk of time on an utterly pointless nebbish who's infatuated with Olimpia. There is no reason for his character to exist, and he is whisked out of the story long, long before the film is through. What producer owed the actor a favor? Other notable features include a strange ending that alienated many viewers (the lobby poster is a hint), two Sellers-sung ballads (nicely done) and an extended flamenco-dance solo that is viscerally disgusting in ways that mere words can't capture. Based on the dancer's sweaty, convulsed face, you would guess she was giving birth rather than cutting a rug. And the scene just goes on and on. I almost fast-forwarded. If you want to see a bronze-skinned Sellers chasing a cute girl with a foreign accent, you're much better off renting "The Party."
Eric Broome
Super Reviewer
The Bobo Quotes
There are no approved quotes yet for this movie.