Body and Soul
(1947)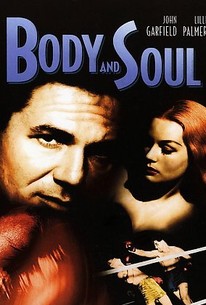 Movie Info
Considered one of the greatest boxing film ever made, Body and Soul features the late-great John Garfield playing pugilist Joe Devlin in his desperate bid to become the world's greatest fighter. Unfortunately, the battle to the top causes him to leave his values and principles behind and though it leads him to success, ultimately it takes him on a tragic dive from which he never recovers. The story is pretty standard for the genre. What makes this tale stand tall above the others is Garfield's riveting performance and the realistic portrayal of the gritty world of professional boxing. The cinematography is also exceptional.
Critic Reviews for Body and Soul
Audience Reviews for Body and Soul
sure it's the same tired boxing cliches but polonsky's sharp dialogues and garfield's greatest performance made it well worth watching, for me at least. james wong howe wore skates and rolled around the ring shooting the fight scenes with a hand-held camera, creating a level of realism that influenced 'raging bull'
Stella Dallas
Super Reviewer
½
A look at the corrupt sides of professional boxing. John Garfield plays the corrupted boxer. Fast money, fast women, expensive high rise, a corrupted manager that would make Don King's face light up with glee. "Body And Soul" isn't all that corrupt, Garfield's character has a love intrest, a good friend who is looking out for him and a mother who wishes her son would decide to get an education. Great performances by Garfield, Anne Revere, Joseph Pevney, Lili Palmer, Canada Lee and Lloyd Gough. I gave this a 90 but now am giving this a 60. We've seen this story on screen before people.
½
The original Rocky 2, complete with dying trainer
Ken Stachnik
Super Reviewer
Body and Soul Quotes
There are no approved quotes yet for this movie.