Body Armour
(2009)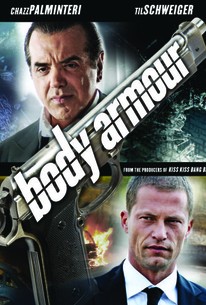 AUDIENCE SCORE
Critic Consensus: No consensus yet.
Movie Info
A disgraced bodyguard is torn between duty and vengeance when he's forced to protect the very same assassin who previously murdered his client. John Ridley (Til Schweiger) has been sworn to protect, and when he fails at his job, he simply walks away. Haunted, he spends years attempting to erase the image of a client being killed right before his eyes. But when Ridley is offered a job that could set him up for life, he has no choice but to accept. Little did Ridley realize that the man he would be protecting is Lee Maxwell (Chazz Palminteri). It was Maxwell who dispatched with Ridley's client as the helpless bodyguard watched in horror, and with three days to go before the cold-blooded hit-man testifies before the grand jury, the man hired to guard his life begins plotting his revenge.
Critic Reviews for Body Armour
There are no critic reviews yet for Body Armour. Keep checking Rotten Tomatoes for updates!
Audience Reviews for Body Armour
½
A slick, fast-paced, very cool and exciting action-packed thriller. It's smart, surprisingly funny and wonderfully character driven all the way through and delivers some sharp gun battles and fight scenes. A fun, explosive, and stylish action film with energy to spare. Til Schweiger and Chazz Palminteri are terrific, they have some great moments and show some great depth to their characters. Schweiger has the presence and subtly of a great action hero. An awesome retreat to old-school action movie excitement. It's a great film that has a surprising twist at the end.
½
Who writes this stuff? Inane brainless shoot em up. Ridiculous situations, characters that make no sense. A good action film should go somewhere, the only place this is going is to the trash pile.
This is one of those movies that you knew what was going to happen and when even before you started to watch the movie. This movie was one long string of stereotypes that made it very predictable. This is a movie about a bodyguard who has to protect somebody but can't do a worthwhile job of it. Like most action movies of this sort, it loses logic about 20 minutes in. The bad guys are too bad for their own good, but they look good in fancy suits and with nice weaponry. The good guys are too dumb, tough but dumb. However as in every other witness relocation/protection movie, logic is misplaced for what is supposed to be a story. The performances are bad, the story is bad and the action is also bad. However for a comedy, it's not too bad, if you want a little bit of action with your funny. With a whole bunch of useless and needless locations, scenes, action sequences and dialog as well as major plot holes, this could be one of the lost comedies that you may find interesting. The nightclub scenes are pretty interesting, walking around in ski masks in a nightclub and nobody notices. Brandishing weaponry across a dance-floor and nobody moves until gunfire is sprayed. It's the little things that can make a movie good or it's the little things that can make a movie horrible.
Steven Vincent Gee
Super Reviewer
Body Armour Quotes
There are no approved quotes yet for this movie.