Body Bags
(1993)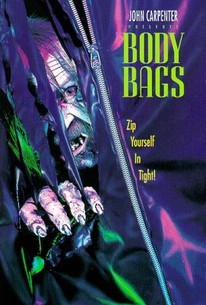 Movie Info
John Carpenter and Tobe Hooper directed this trio of shockers hosted by a small town coroner.
News & Interviews for Body Bags
Critic Reviews for Body Bags
Audience Reviews for Body Bags
This was meant to be Showtime Network's equivalent of the Tales from the Crypts serials. The EG Comics influence is melded with John Carpenter's Spartan gallows humor immediately with the rockabilly keyboard score. Carpenter is the emcee of three ghastly tales and he is clearly effervescent in the ringleader role of the morgue attendant. He guzzles formaldehyde and makes sardonic remarks directly to the audience about the "arriving departed" like a Rat Pack lounge singer. It's a shame the show wasn't greenlit for more seasons. He desecrates corpses with a nihilistic lightness of touch and he moves like Danny Kaye. The first segment is The Gas Station, a Hitchcockian story about a new employee at a gas station. Carpenter plagues the viewers with the fear of claustrophobic isolation where the customers could be unhinged and there is no backup for miles. Mostly though, it is a sluggish litany of in-jokes to Haddonfield, a David Naughton (from 'An American Werewolf in London') appearance and a voyeuristic cameo by Wes Craven which is amusingly leering nevertheless. It basically recycles the vexing customers of 'Clerks' with a highly transparent paranoia twist. The next segment, Hair, is more openly facetious in tone. Stacy Keach is a vain gentleman with rapidly thinning follicles and he is obsessively looking for alternatives to his issue. It's a debatably superior step above the previous yarn and Keach is vulnerably tongue-in-cheek with his quiet desperation of hair restoration via therapy tapes and dye treatment. It is ebullient when he rejoices happily in front of the mirror with his new Stallion hairstyle and it's an astute social commentary on the impotence of bald men. The final vignette is Eye, which is the most taut of the three. Mark Hamill is full-tilt hammy and this could've been his audition for the Clown Prince. None of these stories are particularly innovative but the actors are unanimously stupendous. Overall, this failed pilot is a ghoulishly mischievous standalone feature but it doesn't ascend to the top tier of anthology films.
Cory Taylor
Super Reviewer
The first cameo-rich part of this anthology isn't half bad, the others are passable, but not great. The super off pairing of Mark Hamil and TWIGGY almost works and Carpenter's turn as the Crypt Keeper-ish host is pretty silly too boot.
Ken Stachnik
Super Reviewer
Not particularly amazing stories on their own, but together they make for a really cool tv movie. The whole style is just so incredibly 90s, what with the crazy music and odd design. John Carpenter's segments were the best, but Tobe Hooper's was pretty interesting as well (Mark Hamill with mustache). I kind've wish the movie was just about the hilarious zombie mortician who totally stole the show, which was incidentally played by John Carpenter himself.
Conner Rainwater
Super Reviewer
Body Bags Quotes
There are no approved quotes yet for this movie.