Body of Evidence
(1992)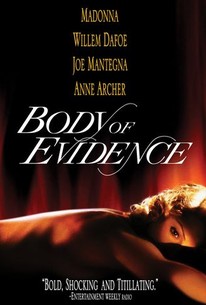 Movie Info
Una mujer (Madonna) acusada de asesinar a su amante---un viejo millonario---seduce a su abogado defensor (Willem Dafoe), el cual se pone nervioso cuando aparece más evidencia que implica su culpabilidad. Joe Mantegna, Anne Archer, Julianne Moore, Jurgen Prochnow, Frank Langella, Stan Shaw. Dirigida por Uli Edel.
Critic Reviews for Body of Evidence
Audience Reviews for Body of Evidence
Willem Dafoe plays a lawyer who becomes involved with his client, Madonna, a woman accused of intentionally murdering her rich, elderly lover through strenuous, kinky sex; coincidentally, he left her $ 8 million in his will. For an "erotic thriller," the film somehow managed to be entirely devoid of any erotic quality although there is no lack of sex: we've got hot wax, handcuffs, oral sex, parking garage car hood sex and various other forms of action. My opinion: Sex thrillers work best when the sex is used as an additional spice to the story, not the focus of the story and Willem Dafoe may be many things and a very versatile actor, but sex god he isn't. Nevertheless, even with these flaws it is interesting to view. The courtroom scenes are moderately entertaining and Julianne Moore is good as the anger stricken wife of Dafoe while Anne Archer is very effective as the secretary with her own agenda and the sadomasochistic sex scenes....well, if you're into watching this kind of stuff, they may prove to be fairly entertaining as well. I did like the ending. "Karma, everyone gets what they deserve in the end."
A woman is accused of killing her lover. Whay does Madonna do these movies. She should stick to what she's good at - singing.
Candy Rose
Super Reviewer
½
The movie is pretty tacky, but you get to see Madonna naked in a bunch of sex scenes!
Sarah Prisbylla
Super Reviewer
Body of Evidence Quotes
There are no approved quotes yet for this movie.