Bohemian Rhapsody
(2018)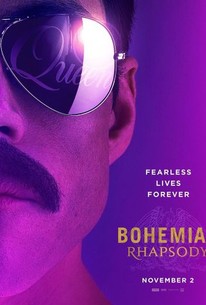 TOMATOMETER
AUDIENCE SCORE
Critic Consensus: Bohemian Rhapsody hits a handful of high notes, but as an in-depth look at a beloved band, it offers more of a medley than a true greatest hits collection.
Movie Info
Bohemian Rhapsody is a foot-stomping celebration of Queen, their music and their extraordinary lead singer Freddie Mercury, who defied stereotypes and shattered convention to become one of the most beloved entertainers on the planet. The film traces the meteoric rise of the band through their iconic songs and revolutionary sound, their near-implosion as Mercury's lifestyle spirals out of control, and their triumphant reunion on the eve of Live Aid, where Mercury, facing a life-threatening illness, leads the band in one of the greatest performances in the history of rock music. In the process, cementing the legacy of a band that were always more like a family, and who continue to inspire outsiders, dreamers and music lovers to this day.
News & Interviews for Bohemian Rhapsody
Critic Reviews for Bohemian Rhapsody
Audience Reviews for Bohemian Rhapsody
½
Entertaining biopic about one of the most popular bands of the 20th century. Considering nothing awfully exciting happened in their history, the film is forced to allow itself some inaccuracies for drama's sake. Most are forgivable, pretending that Live Aid was a flop until Queen started to perform is pretty stupid, though. As far as the cast goes, Malek deserves the praise he has been getting. The rest of the band has less to do but is perfectly cast as well. I also can't say I see the film trying to hide Mercury's homosexuality. The awards praise (Malek excluded) is maybe a bit much, but the film itself is fine.
½
Biopics are trickier than they appear because how best can you distill the essence, and significance, of a person into two hours? We've edged away from the standard cradle-to-grave biopics more in favor of stories that hinge on monumental moments in a person's life, meant to encapsulate their life both in micro and macro. Bohemian Rhapsody favors the former approach, which causes the movie to feel like it's rushing through the cornerstones of Queen singer Freddie Mercury's life. Even at over two hours, the movie feels like it has little time for things, often jumping into polished, well-edited montages of time progression. The creative birth of many of the band's hits are treated as absurdly easy formations, going from a clap of hands and stomp of feet to "We Will Rock you," or a bass line to "Another One Bites the Dust." It's like the movie is checking boxes for a biopic with an anxious eye toward the clock. Mercury's homosexuality (he comes out as bisexual to his long-time girlfriend who corrects him and calls him gay) is given its due, not having been underplayed in an effort to court a more mainstream audience. Mercury's sense of sexuality, and the struggle of his own acceptance, is essential to getting to know this flamboyant front man. Except several of these scenes feel mishandled, which is odd considering director Bryan Singer (X-Men) has often found parallels in big studio films for the gay experience. The movie seems to say if his band mates had only accepted him more then maybe he wouldn't have fallen into promiscuity by a bad influence and thus contracted HIV. There are also some pat answers as well like a disapproving father. However, the faults of Bohemian Rhapsody are compensated by its virtues, none more so than the electric performance by Rami Malek (TV's Mr. Robot) as Mercury. The actor struts and preens with infectious charisma, and a mouth full of Mercury's oversized choppers, and he miraculously captures the powerful stage magic of his character. The concluding 1985 Live Aid performance is astounding to witness and a reflection of just how essential and virtuosic Mercury and company were as live performers. It's a sustained set of several hits and the movie just sings to a close on the highest of high notes. Bohemian Rhapsody is carried by the music and performance of Mercury the character and Malek the actor. It will make you want to rock out to Queen on the car ride home. Nate's Grade: B-
Nate Zoebl
Super Reviewer
½
It's inevitable. Multiple biopics are now created on a yearly basis, and will continue to be made until the end of time. In my opinion, if not a single writer can come up with an original concept, then exploring the true story of someone or something is far more interesting than remaking a classic film. Bohemian Rhapsody is the latest in a long line of already released and upcoming biopics-and it's one of the most enjoyable theatre experiences I've had all year. Already thinking I knew a lot about this story before going in, I was pleasantly surprised by quite a few aspects of this story. Whether or not you're a fan of the band Queen or not, this movie has the makings of a film that can please many viewers. I thoroughly enjoyed watching this film, and here's why. I knew Bohemian Rhapsody was a movie that was going to heavily focus on Freddie Mercury over the rest of the band, which I thought was going to feel imbalanced, but the way his story is presented here makes it seem like his life had the most story to tell. From working at an airport to performing one of the most memorable concerts in history, this film takes you on a decade-long journey that's well worth your time. I was never bored, because it either wows you with spectacle, engages you with its drama, or has you guessing about where the film is going to take you next. It's not a perfect movie, but I think I can go as far as to say it's a perfectly made film in terms of its presentation. I'm always looking for a movie to break out of the cliched way of telling a biopic, but I will admit this film slightly suffers from that at times. It does feel like it jumps from year to year, simply hitting the most important aspects of Mercury's life, which is fine, but we've seen that structure throughout numerous films in the past. With that said, that's truly the only complaint I can come up with here. If you don't like listening to the music of Queen, then I feel that will also be a detriment to the movie for you, but that would just be personal taste anyway. For the movie that it is, it works extremely well. What surprised me the most about Bohemian Rhapsody was the performance by Rami Malek as the leading man. I've seen him countless times in the past, appearing as comedic relief in films like Need for Speed or the Night at the Museum franchise, but I've never seen him shine in a leading dramatic role before. If this performance doesn't put him on the map, I'm not sure what will, because I was blown away by his portrayal here. Even if this movie suffered from lazy writing or a lack of energy, Malek's performance would've still held my attention, and that says a lot, especially for someone who I never expected to perform like this. In the end, Bohemian Rhapsody benefits from great editing (which hardly jumps out at me very often), some very solid direction (controversy aside), concert sequences that will impress many viewers, and an overall brisk pacing, even with the lengthy run time. I had a blast watching this movie and even with all of the depressing elements of this story, it's always well-balanced with happier or energetic moments. Aside from the lead performance, I can't see this movie receiving many nominations, but I will say that I can see it becoming a fan favourite movie of 2018. This is the definition of a crowd-pleaser. Bohemian Rhapsody is a great theatre experience from start to finish.
Bohemian Rhapsody Quotes
There are no approved quotes yet for this movie.