Bon Cop Bad Cop 2
(2017)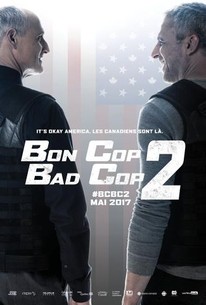 Movie Info
Eight years after first working together, two mismatched Canadian cops team up once again to investigate an auto-theft ring. However, they soon discover that the robberies point to a much-larger conspiracy in this hugely entertaining action comedy.
Critic Reviews for Bon Cop Bad Cop 2
Audience Reviews for Bon Cop Bad Cop 2
½
Buddy movies have been around for millennia it seems and, unless it's a particularly clever and funny script like The Nice Guys, there's not really much you can do that hasn't really been done in some form, and better, by other people. The peak of this genre, for most people, seems to be Lethal Weapon. And that movie was released in 1987. It came out the year before I was born. That's a long-ass time. And that's not to say there hasn't been good movies in the buddy genre since then. The aforementioned Nice Guys, Hot Fuzz and The Other Guys come to mind immediately. This brings us to this sequel to a 2006 movie that I saw, relatively, not that long ago. Actually, looking at my drafts in Gmail, since I write the reviews on since drafts are saved, I wrote my review for the original movie almost a year ago to the day. Tomorrow it'd be exactly one year. That's surprisingly eerie, since I legit didn't plan on this, it just sort of happened. Interesting little tidbit there. Anyway, that doesn't really matter here. As far as this movie s concerned, honestly, I felt it was more of less on the same level as the original. The thing I did like, and that is something that lot of these sequels (in general) fail to do, is that they didn't forget the events of the original. For example, Ride Along 2 completely reset everything, as if the first movie hadn't happened and it was the same, typical 'we don't get along until we do' angle from the first one. I thought it worked in the first Ride Along, because Kevin Hart is so obnoxious (in a good way) and Ice Cube is such a hardass that the combination of these two elements worked. But given what happened in the first movie, wouldn't Cube's character have more respect for Hart's character? It's like he forgot the events of the first film. Same thing with Shrek. Shrek was always an asshole to Donkey before he realized how much he valued him. In fact, Shrek always reset and he was always an asshole for the next sequel until he realized the errors of his ways. This movie, however, isn't like that thankfully. They don't retread the same French vs English-speaking Canadian angle from the first movie. And that's always welcome because it feels like the characters have actually progressed and moved on from the past and they're allowed to explore new angles for both characters. And, let me tell you, they sure as shit explore new angles for at least one of the characters. In ways you might not even expect. In parts, I think that this movie is considerably better than the original. Like the relationship between David and Martin is explored at a deeper level, because they have gone from rivals to legit friends. And that opens new avenues for them to tell their story. The villain, at least the first layer of villain, cause things are never quite what they seem, was better. Whereas, to me, the villain in the original movie was a complete joke. Bland and uninteresting. At least the villain(s) here have more personality behind them. Some of the comedy is surprisingly really good. Like the entire scene set in Maine, where the American cops are portrayed as the biggest morons. The scene goes a little too long for my liking, but it was still very entertaining. The negatives are the fact that I felt the movie was a little too long and the pacing certainly didn't help any. Some of the banter between David and Martin felt a little forced, particularly early on in the movie. It was the usual, we're friends, but we still give each other shit, but it was a little artificial. The villains, which I mentioned as a positive, are also a negative. What I mean by that, the car theft ring is a cover for something else, so the villains that David is working for, undercover of course, aren't really the big bads of the movie. That felt a little unsatisfying, because you spend all this time with these people and for them not to be the endgame is a little disappointing. Given that the new villain, while certainly a major asshole (who probably voted for the current dumbfuck the United States calls its president), we just didn't get to spend enough time with him. His motivations are certainly...timely, to say the least. That still doesn't make him a good villain, in my book at least. Obviously, the movie wouldn't get the rating it did if Colm Feore and Patrick Huard didn't have some great chemistry with each other. And that chemistry is on full-display here and, again, the movie goes to some interesting places. ***SPOILERS*** So we come to find out at a certain point, and you know something is up seeing Martin's hands shake all the time, that Martin has Lou Gehrig's disease. Essentially, for those unfamiliar, it's a degenerative disease. Martin explains it simply, he's losing control of his motor functions, eventually one by one, everything will start to shut down. He doesn't know what will go and when. It's a surprisingly heavy subject for a movie I was expecting to be just a straightforward buddy comedy. While it is used for a bit of sentimentality, to be sure, I felt that it wasn't used to nauseating effect. And it adds a poignant feeling to the ending of the film, because you know that, in a series of years, Martin may well be dead as a result of his disease. So the last image of him happy, finally reunited with his son and his closest friend, receiving a medal from the president of the U.S is surprisingly bittersweet, because you know the disease is only gonna get worse and worse for Martin from this point. And that's something you don't really see these movies tackle. I still wish I could say that I thought this was a good movie, because there's some stuff I legitimately like. I love Colm Feore and Patrick Huard together, they truly do have some excellent chemistry together. The film's more serious moments were a welcome addition, since they added more depth to the friendship of these two characters. But the pacing of the movie left a lot to be desired, there's just some needlessly long scenes here, the inconsistent comedy which was, again, a problem in the original movie get in the way of what should have been an affecting story of two friends reuniting for one last big case. The villain(s) are both good and bad and, to me, there's just something that's missing that would have pushed this movie over the edge. I'd say that this was one of those movies that I enjoyed more than the rating implies, but I just can't overlook its flaws. If you were a fan of the original, you'll be a fan of this one.
Jesse Ortega
Super Reviewer
Bon Cop Bad Cop 2 Quotes
There are no approved quotes yet for this movie.