Bon Voyage
(2004)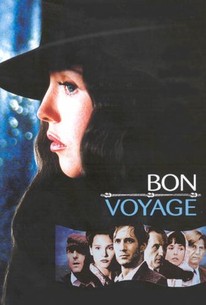 Movie Info
At the start of World War II, the fate of the free world hangs in the balance at the posh Hotel Splendide in Bordeaux. Cabinet members, journalists, physicists, and spies of all persuasions gather in order to escape the Nazi occupation of Paris. High society socialites hobnob with jailbirds. Murderous intrigues, scientific secrets and love affairs flourish.
Critic Reviews for Bon Voyage
Audience Reviews for Bon Voyage
Fun film, not too sweet and neither too melodramatic. Good casting too in everyone from Depardieu to Derrangere. And of course, Adjani and Ledoyen are the type of eye candy i wish i could see more in movies.
Tsubaki Sanjuro
Super Reviewer
½
[font=Century Gothic][color=olive]Escape is a major theme in "Bon Voyage". The movie starts out and ends in a movie theatre with people watching a lighthearted film. At the beginning of the film, it is on the verge of World War II. And most of the movie takes place after the Germans have invaded France. There are two competing plotlines with a young writer who has just escaped from jail moving between the two. 1) a famous actress is seeking to stay ahead of the German army. 2) an old professor and his assistants are seeking to make it out of the country with their notes and a car full of heavy water. There are a couple of contrasts between the storylines - an independent woman vs a subordinate woman(the independent actress is seen as being selfish; she is also older than the assistant); being placid vs. resistance.[/color][/font] [font=Century Gothic][color=#808000][/color][/font] [font=Century Gothic][color=#808000]"Bon Voyage" is a frenetically paced movie for most of its running time but it does go on too long, as one of the plotlines runs out of steam. It is hard to believe how some of the characters are so self-absorbed in the face of crisis. Usually, people will stop for a second after the crisis, have some tea and then go back being so engrossed in their own lives. Plus, there is an inordinately high level of coincedence at work here.[/color][/font] [font=Century Gothic][color=#808000][/color][/font] [font=Century Gothic][color=#808000][/color][/font]
½
How does memory capture beauty? How is it recalled in the mind? If beauty is a truth, and truth only in the moment, can beauty still be beauty if it's inside a memory? Maybe the way beauty is documented in the mind is that it can't be totally recalled, but one can intellectually acknowledge that it was beauty once experienced, and an imprint of the feeling that one experiences with beauty remains forever with you. I think that beauty almost gains meaning by traversing across time through human consciousness, via art or nature or human quality, and in that way it becomes eternal. ... You must forgive me, as living on my own often permits the voices in my head to wander in halves, skipping about my room and tossing clothes and old receipts around, arguing with the other half. As fun as that sounds, it actually turns into a lot of questioning, and it stifles me. Though it may produce a nifty thought, I find that it can suppress my emotions, and I feel vacant and longing. Like my heart and soul got scroonched all cartoon-like into a small milkjar. *unscrews cap and smacks bottom of bottle* In states like that, I need senses to synchronize and attack...so I can feel something. Have you ever felt moved when you hear a certain song that reminds you of a good memory, and combined with the joy of where you're at when you hear the song again (or with what you're doing), and perhaps other (somewhat) positive factors surrounding your life at that moment, you feel...heightened? Hyper-sensitive, hyper-aware maybe. Doesn't happen so often, but it can happen. There are times for me when a song or an image or sometimes even a smell can trigger many memories, and I see them all at once, like a lightning bolt zapping a clear path through my memory and crashing to the floor. My eyes become a balance of introversion and extroversion - they are a collage of these old memories, but they are what they're seeing at the moment as well. And the song goes on. The dance goes on. The flavor goes on. It all builds to a crescendo of energy and nostalgia and of beauty, whatever it is, and you feel like you might erupt from your body in a burst of blood, brains and magic. Then it ends. The alien turns down the knobs, and returns to dormancy. ... I don't know. I wish there was an easier way to arrive to that thinking. But, the emergence of sunshine this past week really put me in high spirits, and it has got my voices questioning my love of winter (though it's not my favorite). Maybe I just didn't realize what these dull months were doing to me. Especially in California. I swear, thanks to the climate, time is a whole new entity in this state. I walked out of the movie theater last night and thought it was July. And the weather here seems to completely forget about Christmas. Mother Nature and Father Time have forged a bond...to trick the souls of the Great Left Coast into bounding across the calendar and losing all track of reality. And I am one of their limp-limbed test puppets. If anybody knows their Guess Who...[i]"It's the neeew Mother Nature taking over..."[/i] In other news: Today is my 3-year anniversary of posting on RottenTomatoes. As decreed by Neumthor...Bow! Bow to your Golden King! [img]http://img.photobucket.com/albums/v625/TerraBrain/allhailKingHomer.gif[/img]
Neum Daddy
Super Reviewer
Bon Voyage Quotes
There are no approved quotes yet for this movie.