Bone
(1972)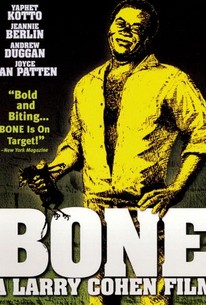 Movie Info
When their lavish home is invaded by a violent and unstable black criminal, a high-living white Beverly Hills couple is forced to confront their worst nightmares in filmmaker Larry Cohen's satirical black comedy. Famous car dealer Bill (Andrew Duggan) and his wife, Bernadette (Joyce Van Patten), go through the motions of their mundane day-to-day existence while coasting on a fragile web of lies and tentative affection. When Bill discovers a rat in the filter of his pool, he is frozen with fear until Bone (Yaphet Kotto) mysteriously appears and removes the threatening vermin. Their gratitude is short-lived when Bone forces his way into their posh home with the intention of raping Bernadette and making off with a tidy sum. However, when he discovers some questionable discrepancies with their financial records, Bill is forced to make a trip to the bank to make a withdrawal while Bone and Bernadette await his return -- but Bone warns that he will not hesitate to kill Bernadette if Bill doesn't return in due time. Their transparent façade forever shattered, captor and captive form an unusual bond while Bone's meal ticket opts for an ominous change of plan that he believes will rid him of excess baggage while also drawing a substantial profit.
News & Interviews for Bone
Audience Reviews for Bone
½
I was expecting a really crappy exploitation flick when I started watching Bone but I was really surprised. It starts off as a home invasion flick then turns to a kinda black comedy. Kotto is great but Van Patten steals the show as the self-medicating wife. Cohen's direction is great too.
Michael Gildea
Super Reviewer
Bone Quotes
There are no approved quotes yet for this movie.