The Bone Collector
(1999)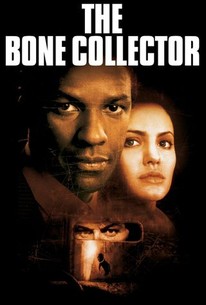 The Bone Collector Photos
Movie Info
Filmed on location in Montreal and New York, The Bone Collector is a suspense thriller that combines Rear Window and Seven. Two cops on the trail of a brutal serial killer must see as one, act as one, and think as one before the next victim falls. Lincoln Rhyme (Denzel Washington) is an intelligent forensics detective who was paralyzed in the line of duty. The author of several books, he has a keen eye for detail and nose for clues that have made him a legend in the law enforcement community. Amelia Donaghy (Angelina Jolie) is a street-smart policewoman in her twenties. On her last day as a street cop, before being transferred to a desk job, Amelia discovers a badly mutilated corpse. Rhyme is asked to investigate the case, but he declines. To him, it is an open-and-shut case not worth his time. But when he takes a close look at the evidence, he is intrigued, as the photos reveal complex messages in their details. The lunatic, who might be a taxi driver (a Scorsese allusion), amuses himself by paying homage to legendary murders in his own gruesome acts. Amelia is assigned to assist Rhyme, and she must be the eyes and ears of the quadriplegic detective. And they must capture the killer before he strikes again. Written by Jeremy Iacone and based on a book of the same title by Jeffrey Deaver, The Bone Collector was directed by the Australian thriller specialist Phillip Noyce, who directed such films as Clear and Present Danger and Dead Calm. ~ Gönül Dönmez-Colin, Rovi
Critic Reviews for The Bone Collector
Audience Reviews for The Bone Collector
A great film. Angelina Jolie is such a great actress. A must see!
Bethany Murphy
Super Reviewer
Star vehicle cat and mouse with denzel as the old hand and angelina as the rookie learning the ropes: can they catch the killer in time? Okay thriller boosted by a competent support cast.
Kevin M. Williams
Super Reviewer
½
A very good cat and mouse thriller as an ex-cop teams up with a rookie to investigate crime scenes to track down a serial killer.
The Bone Collector Quotes
There are no approved quotes yet for this movie.