Bone Dry
(2007)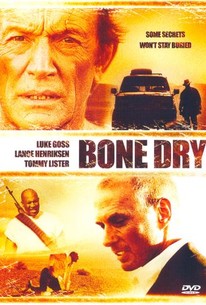 AUDIENCE SCORE
Critic Consensus: No consensus yet.
Movie Info
Luke Goss and Lance Henrikson star in first time writer/producer/director Brett A. Hart's unforgiving tale of a vengeance pitting a mysterious man with a dark past against a sadistic tormentor intent on pushing his prey to the limits of human endurance. Eddie (Goss) is a family man who had just pulled off the highway for a quick cup of coffee when he was confronted by master manipulator Jimmy (Henrikson). Armed with a high-powered sniper rifle and a pair of walkie-talkies, Jimmy will now force Eddie to take the longest walk of his life. The setting is the Mojave Desert, and Eddie must walk north. Should Eddie turn in any other direction, Jimmy will put a bullet in his brain without hesitation. But this is no ordinary stroll in the sand, because along the way Eddie will be confronted with a series of ambushes and traps designed to wear away at both his dehydrated flesh and increasingly fragile psyche. Later, as the pair confront one another at their final destination - an open grave - it becomes painfully obvious that the men who once seemed polar opposites share more in common than appearances may suggest.
Critic Reviews for Bone Dry
Audience Reviews for Bone Dry
Bone Dry is basically Gerry meets Saw. I heard this film was under rated; I heard wrong. You can't just stick two people in a life and death battle and expect me to care about either one of them without ANY character development at all.
FanGirl Browncoat
Super Reviewer
Okay movie with a good Henriksen performance (haven't seen one of them in a while) and a decent, but kinda predictable story. Still, it had me until the end of the film when the title card comes up "A Brett Hart Vision". Kinda pretentious don't ya think? Still, great to see Henriksen back in fine form, similar to his role in the excellent Nature of the Beast.
Christopher Brown
Super Reviewer
Bone Dry Quotes
There are no approved quotes yet for this movie.