Bones
(2001)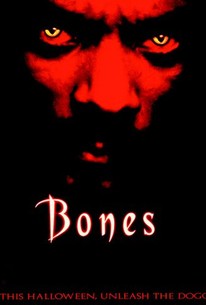 Movie Info
Cinematographer turned director Ernest Dickerson returns to the horror genre with this African-American, urban twist on haunted house stories. Rap star Snoop Doggy Dogg makes his debut as a leading man in the title role of Jimmy Bones, stylish protector of a thriving inner-city neighborhood in 1979. When he refuses to knuckle under to powerful interests bent on introducing crack cocaine into his turf, Bones is betrayed by some of his own people, murdered, and buried in the basement of his gothic home. More than two decades later, the neighborhood is a drug and crime-infested nightmare, and Bones' decrepit, allegedly haunted domicile is about to become a hip-hop dance club. Although Bones' one-time girlfriend, Pearl (Pam Grier), and his right-hand man, Shotgun (Ronald Selmour), have remained loyal to his memory, the children of his traitor, Jeremiah (Clifton Powell), are the principal owners of the new club. They become the primary targets when Bones' vengeful spirit rises up to exact bloody retribution for past misdeeds. Bones (2001) co-stars Michael T. Weiss, Bianca Lawson, and Khalil Kain.
Audience Reviews for Bones
If you're looking for one of the worst horror films ever made, then Bones may be the one you're looking for. Starring Snoop Dogg in the title role, Bones is an uneven mess and quite simply a bad film. This is a poorly made horror film that has too many clichéd moments from other, better horror films. Bones fails on so many levels that you don't even know were to begin. This is trash, a poorly made horror film that has an interesting story, but is so poorly executed that it ends up being a waste of time. This is a pointless excuse for a horror film and those who green lit this piece of crap should drop out of the filmmaking business. The elements that comprise the story have been overdone so many times and the acting here is plainly horrible. A waste of time is the best way to describe this poorly crafted horror yarn. This is a stupid film lacking anything creative about its story and the acting is plainly awful. Well, what do you expect from Snoop Dogg, he's a terrible "artist" his music sucks, and his acting sucks even more. He should retire altogether because he's plainly a horrible "musician" and "actor". This film is terrible, the acting is terrible and the story has been done many times before, and better done as well. A terrible horror film that only Snoop fans will enjoy and I don't even know why. As a diehard fan of the genre, I say avoid this film like the plague. Bones is one mess that really can't get cleaned up.
It does have extremely creepy & disturbing moments & visuals, & has some interesting characters, but the film is just slow, & then towards the ending it gets predictable. Snoop Dogg is not a bad actor, & he plays his role just fine, but even he & the other cast members can't save the film from being rather silly & slow. As for the blood & gore, there's plenty of it, but the majority of it relies on maggots & tons of gore that just grosses out more than scares.
Frisby 2007
Super Reviewer
Silly but a really good film.
Barry Lappin
Super Reviewer
Bones Quotes
There are no approved quotes yet for this movie.