Bonjour Tristesse
(1958)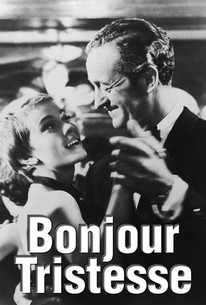 Movie Info
Francoise Sagan's bittersweet novel Bonjour Tristesse is given a sumptuous Riviera-filmed screen treatment. David Niven plays a wealthy playboy, the father of teenaged libertine-in-the-making Jean Seberg. Seberg tolerates most of her father's mistresses, but doesn't know what to make of the prudish Deborah Kerr, who will not cohabit with Niven until after they're married. Feeling that her own relation with her father will be disrupted by Kerr's presence, Seberg does her malicious best to break up the relationship--only to be beaten to the punch by Niven, who despite his promises of fidelity to Kerr cannot give up his hedonistic lifestyle. The combination of the daughter's disdain and the father's rakishness drive Kerr to suicide. Niven and Seberg continue pursuing their lavish but empty lifestyle, though both realize that their lack of moral fibre has destroyed a life. The incestuous undertones of the original Sagan novel are only slightly downplayed in the film version; the "tristesse" (sadness) is visually conveyed by filming the Deborah Kerr flashback scenes in color and the opening and closing of the film in bleak black and white. Bonjour Tristesse was codirected by Otto Preminger, who'd previously discovered Jean Seberg for his benighted 1957 filmization of Saint Joan.
Critic Reviews for Bonjour Tristesse
Audience Reviews for Bonjour Tristesse
Interesting family dynamics. Cecile (Jean Seberg) seems overly dependent on her playboy father played by David Niven. This film is more of a tragedy than a comedy though.
You can forgive David Niven in the shorty shorts with such a great story to tell. Here we have the ultimate father daughter relationship where party dad lives younger than his age much to the delight of his offspring. when it appears that daddy will actually grow up and start a new life with Deborah Kerr..well..watch the sparks fly. Great Preminger.
John Ballantine
Super Reviewer
½
[font=Century Gothic]In "Bonjour Tristesse," Cecile(Jean Seberg) is the 17-year old daughter of Raymond(David Niven), a wealthy businessman. They are also the best of friends who are having fun on their summer holiday in the south of France. She has met a young man, Philippe(Geoffrey Horne), while Raymond's guest, Elsa(Mylene Demongeot), is enjoying herself, too. Into this happy household, he forgot that he had also invited Anne(Deborah Kerr), Cecile's godmother.[/font] [font=Century Gothic][/font] [font=Century Gothic]Made in 1958, "Bonjour Tristesse" is clearly ten years ahead of its time but we are still only in 1968. In the interim, the movie has not aged well and could have definitely used more of an edge. It chronicles a time when it was becoming hip that parents could be hip but wonders at what cost?(These are noble sentiments which are unnecessarily voiced by the characters themselves.) Raymond has been a spectacularly bad role model for Cecile but Anne shows promise as she is herself a successful fashion designer who wants Cecile to study for her exams.(I do believe in parental responsibility but not societal responsibility.) Cecile has other ideas, simply wanting to play in the moment and be supported by men in the future. [/font]
Bonjour Tristesse Quotes
There are no approved quotes yet for this movie.