Les Bonnes Femmes (The Good Girls)
(1960)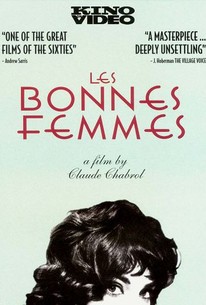 Movie Info
The four young women work at the same place and each has to put up with a lecherous supervisor who talks out of one side of his mouth about good morals while the other side has the opposite message. One of the women, Jane (Bernadette Lafont) fixes herself up in a somewhat vulgar manner and goes out to pick up men, which fails to produce any real love. Another wants to marry a man whose family runs a respectable store. Another sings -- incognito -- with a pop band, while the last, Jacqueline (Clothilde Joano) is pursued by a biker. The film details their doomed attempts to find romance.
Critic Reviews for Les Bonnes Femmes (The Good Girls)
Audience Reviews for Les Bonnes Femmes (The Good Girls)
Claude Chabrol's Les Bonnes Femmes is a scathing indictment of a patriarchal society that actively suppresses the female spirit. From the onset, Chabrol showcases a vacuous and grim Paris that is void of the charm and romantic sentiment that the city is associated with. Instead we are introduced to a group of women who are mired in an oppressive city in which men's impetus for courting is due to the thrill of the hunt rather than the longing for companionship. Even the smallest attempts in asserting feminine independence are ferociously mocked. When Jane, played brilliantly by Bernadette Lafont, reprimands her suitor for habitually calling her by the wrong name, she is ridiculed for her outburst and the men continue to tease the idea of the "eternal feminine." Chabrol also has a strip show taking place in the background during this scene to show how the objectification of women always looms around these characters. Even in some of the most seemingly arid scenes Chabrol always features a man in the scene looking over the women's shoulders or encroaching on their personal space. These women become so starved for genuine affection that they are willing to put up with a relationship which censors their individuality. Or in the case of Jacqueline (Clotilde Joano), are willing to assume that a mysterious stalker just might be a chivalrous paramour. Although Chabrol is accredited with being one of the premiere filmmakers of the French New Wave, his film doesn't feature many of the stylistic hallmarks that other films of this ilk utilize. While lovers of the French New Wave may be dismayed by the film's austerity, one should not let this take away from the fact that it is a wonderfully crafted film which features some incredibly poignant moments. It isn't an uplifting watch, but Chabrol's passion for this subject truly shines through. It is a film that demands your attention and it is one that should not be skipped over.
½
I wanted to know more about that Bernadette Lafont character, but they left her and failed to sub in anyone as interesting.
We are all aware of the genius of Godard and Truffaut, but Claude Chabrol's early film seems to be a bit of an unsung gem of the Nouvelle Vague. Four carefree young girls, including Bernadette Lafont and Stephane Audren, look for love and romance in a stunningly photographed Paris with some harsh consequences. Simply brilliant.
Les Bonnes Femmes (The Good Girls) Quotes
There are no approved quotes yet for this movie.