Bonneville
(2006)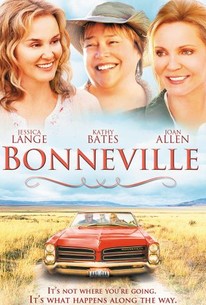 Movie Info
A woman looking to fulfill her late husband's final wish sets out on a transformative cross-country road trip in director Christopher N. Rowley's warmhearted tale of friendship, self-discovery, and the memories that make life worth living even after the ones we love have gone. Arvilla (Jessica Lange)'s husband Joe has recently died during a trip to Borneo, and his ashes have just arrived at her home in Pocatello, ID. Though Joe had previously specified in his will that he would like his ashes scattered by his beloved wife, the well-intending Arvilla soon becomes locked in a heated battle of wills with Francine (Christine Baranski) -- Joe's well-to-do daughter from a previous marriage. Francine is determined to see her father laid to rest next to her mother in Santa Barbara, and she's threatened to sell the house that her father and Arvilla have lived in since marrying to ensure that she gets her way. Now Arvilla has lost Joe's will, leaving no way to confirm either what he wanted done with his remains or what Arvilla is to receive upon her husband's death. Defeated, Arvilla sets her sights on Santa Barbara to surrender the ashes to Francine and attempt to come to terms with the loss of her husband. When Arvilla's sassy best-friend Margene (Kathy Bates) and uptight pal Carol (Joan Allen) agree to join their recently-widowed friend on her journey and offer some much-needed moral support, the trio soon sets out in Arvilla's vintage '66 Pontiac Bonneville for a journey of a lifetime. ~ Jason Buchanan, Rovi
News & Interviews for Bonneville
Critic Reviews for Bonneville
Audience Reviews for Bonneville
½
This is more a movie aimed at older women (no comments that I am not that far off. haha), but I didn't mind it. It follows Arvilla, (Jessica Lange), who has recently lost her husband. I thought it dealt very well with her grief and it felt very real and sad. She ends up in a situation where she discovers her husband did not update his will and his old one specifies that his daughter, Francine, from a previous marriage, gets the house. Christine Baranski is horrible as Francine. I mean that in a good way, it is a horrible character - Christine does a great job with it! One of the things that made me laugh was the awful shriek ringtone Arvilla had set on her mobile for when she calls. Francine decides that Arvilla can keep the house, as long as she returns the ashes to her to be buried with his first wife. Arvilla is in turmoil as she knows this is not what her late husband wanted. She and her two girlfriends take a road trip to revisit some old memories and drop the ashes off to the Francine (or does she....). It is fairly slight on plot once the roadtrip stuff starts, but it is a nice female buddy movie. I think it has been compared to Thelma and Louise a few times, and I could certainly see that. I dare say T & L is the better of the two, but this is nicely acted and rings true.
Nicki Marie
Super Reviewer
Cast: Jessica Lange, Kathy Bates, Joan Allen, Tom Skerritt, Christine Baranski, Victor Rasuk, Tom Amandes, Tom Wopat, Robert Conder, Jayson Creek, Arabella Field, Kristen Marie Hullinger, Ivey Lloyd, Bruce Newbold, Steve O'Neill, Laura Park, Jodi Russell Director: Christopher N. Rowley Summary: This road trip yarn, follows three friends on a journey across the West after one of them is widowed. Along the way, they learn a thing or two about themselves, one another and life. My Thoughts: " This film has three very talented leading ladies in it, Kathy Bates being my favorite. Arvilla is the adventurous one, Carol is the goody two-shoes, and Margene is the free spirited one. Together they all make for a good watch. The acting is strong and the story is as well. But there is no action no great adventure. BUT, I still enjoyed it. I felt like I was peeking in on the friendship of three best friends and enjoying the trip with them. Christine Baranski plays the daughter to the deceased and is a very unlikeable character. She has no sympathy for Arvilla Holden and is quite cruel to her. But then you have to sympathize with her just a tiny bit cause she too, is also grieving. This movie is not going to be for everyone, especially those who don't really like character driven stories. But I enjoyed it and thought it was time well spent."
♥˩ƳИИ ƜѲѲƉƧ♥
Super Reviewer
This movie is Thelma and Louise with less theatrics. Not as good as T & L, but fun nonetheless.
Bonneville Quotes
There are no approved quotes yet for this movie.