Bonnie and Clyde
(1967)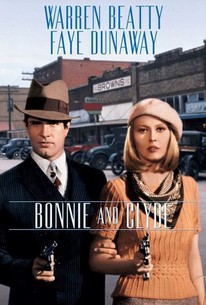 TOMATOMETER
AUDIENCE SCORE
Critic Consensus: A paradigm-shifting classic of American cinema, Bonnie and Clyde packs a punch whose power continues to reverberate through thrillers decades later.
Movie Info
Producer/star Warren Beatty had to convince Warner Bros. to finance this film, which went on to become the studio's second-highest grosser. It also caused major controversy by redefining violence in cinema and casting its criminal protagonists as sympathetic anti-heroes. Based loosely on the true exploits of Clyde Barrow and Bonnie Parker during the 30s, the film begins as Clyde (Beatty) tries to steal the car of Bonnie Parker (Faye Dunaway)'s mother. Bonnie is excited by Clyde's outlaw demeanor, and he further stimulates her by robbing a store in her presence. Clyde steals a car, with Bonnie in tow, and their legendary crime spree begins. The two move from town to town, pulling off small heists, until they join up with Clyde's brother Buck (Gene Hackman), his shrill wife Blanche (Estelle Parsons), and a slow-witted gas station attendant named C.W. Moss (Michael J. Pollard). The new gang robs a bank and Clyde is soon painted in the press as a Depression-era Robin Hood when he allows one bank customer to hold onto his money. Soon the police are on the gang's trail and they are constantly on the run, even kidnapping a Texas Ranger (Denver Pyle) and setting him adrift on a raft, handcuffed, after he spits in Bonnie's face when she kisses him. That same ranger leads a later raid on the gang that leaves Buck dying, Blanche captured, and both Clyde and Bonnie injured. The ever-loyal C.W. takes them to his father's house. C.W.'s father disaproves his son's affiliation with gangsters and enters a plea bargain with the Texas Rangers. A trap is set that ends in one of the bloodiest death scenes in cinematic history. The film made stars out of Beatty and Dunaway, and it also featured the screen debut of Gene Wilder as a mortician briefly captured by the gang. Its portrayal of Bonnie and Clyde as rebels who empathized with the poor working folks of the 1930s struck a chord with the counterculture of the 1960s and helped generate a new, young audience for American movies that carried over into Hollywood's renewal of the 1970s. Its combination of sex and violence with dynamic stars, social relevance, a traditional Hollywood genre, and an appeal to hip young audiences set the pace for many American movies to come. ~ Don Kaye, Rovi
News & Interviews for Bonnie and Clyde
Critic Reviews for Bonnie and Clyde
Audience Reviews for Bonnie and Clyde
Heavy on the French New Wave influences, this surprisingly modern film showcases a compelling, dysfunctional romance amidst a decent amount of generic, albeit well executed pulpy crime tropes.
Kevin Cookman
Super Reviewer
½
Clyde Barrow: This here's Miss Bonnie Parker. I'm Clyde Barrow. We rob banks.  "They're young. They're in love. They rob banks." Bonnie and Clyde is a loosely made, American classic that tells the story of the two bank robbers from their first meeting to their ultimate peril. Sure there are some easy to spot errors and omissions, but this is a brilliantly made, fun, crime film. There's not much to complain about with this one. The movie is quick moving and never leaves Bonnie and Clyde. A lot of movies like this like to show a subplot where detectives, FbI, or whatever else scheme to find the bad guys. In Bonnie and Clyde, we don't see that; and I love it for that reason and many others. Plot is kind of secondary here as the story is known. Meet Bonnie and Clyde, they rob banks. We watch as they tour the country, picking up C.W., Clyde's brother, Buck and his wife Blanche. Along the way, they rob and occasionally kill when they have to. The film makes us sympathize with Bonnie and Clyde. We see them with each other and how they act to each other. It makes us see their nice side, and that pretty much forces us to sympathize with their ultimate demise at the hands of some one they trusted.  This movie works as well as it does for more than one reason, but the biggest is the chemistry between Warren Beatty and Faye Dunaway. The two are as perfect a bank robbing duo as you could hope for. Beatty is... well Beatty. So you know you're going to get a phenomenal performance from him. And Dunaway is the sexy, blonde that can win our hearts and she does it with amazing grace, turning in one of her most memorable roles as Bonnie. There's a good supporting cast as well with Gene Hackman, Michael J. Pollard, and Estelle Parsons rounding up the Barrow Gang. The movie may be most notable for its depiction of violence. At the time, it was more than just groundbreaking; it was shocking. Now, we're used to being shown violence in over the top kind of ways and that makes watching this even more believable. The violence is depicted in a realistic way, making the movie more authentic because of it. Needless to say, this is an absolute much watch. Watching Dunaway and Beatty as Bonnie and Clyde is fun, emotional, and a cinematic pleasure. I don't know how many movies there are out there that are about Bonnie and Clyde, but I haven't seen or heard about any, and there's a good reason for that. We don't need any. 
Melvin White
Super Reviewer
½
Telling the story of notorious armed robbers Bonnie Parker and Clyde Barrow, this Oscar nominated script was actually offered to both Truffaut and Godard, but even they could not have done a better job. Warren Beatty's awkward and impotent Clyde who sees himself as some kind of self styled Robin Hood is perfectly matched with Faye Dunaway's Bonnie, who sees him as a way out of her dreary small town existence. Their dysfunctional relationship is far more interesting than the usual Hollywood sappiness and there is plenty of warmth and humour as they cut a swathe through a wonderfully reconstructed depression era America, making their inevitably brutal demise all the more shocking and powerful. One of the best crime dramas of the sixties and the template for the likes of True Romance and Natural Born Killers. And Faye is surely a better cure for impotence than Viagra...
Bonnie and Clyde Quotes
| | |
| --- | --- |
| Clyde Barrow: | We rob banks. |
| | |
| --- | --- |
| Eugene Grizzard: | Step on it Velma! |
| | |
| --- | --- |
| Clyde Barrow: | the truck drivers come in to eat greasy burgers and they kid you and you kid them back, but they're stupid and dumb, boys with big tattoos all over 'em, and you don't like it... And they ask you for dates and sometimes you go... but you mostly don't, and all they ever try is to get into your pants whether you want to or not... and you go home and sit in your room and think, when and how will I ever get away from this?... And now you know. |
| | |
| --- | --- |
| Bonnie Parker: | [Bonnie to Buck and Blanche] Why don't y'all go back to your *own* cabin, if you want to play with C.W. |