Bonnie Scotland (Heroes of the Regiment)
(1935)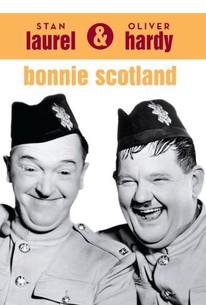 AUDIENCE SCORE
Critic Consensus: No consensus yet.
Bonnie Scotland (Heroes of the Regiment) Photos
Movie Info
Stanley MacLaurel (Stan Laurel), the American "black sheep" of the MacLaurel clan, stows away on a cattle boat to Scotland in the company of his pal Ollie (Oliver Hardy) so that he can claim his share of his late uncle Angus Ian MacLaurel's fortune. Alas, Stan's inheritance consists of a snuffbox and a pair of bagpipes, while the bulk of the estate goes to Angus' granddaughter Lorna MacLaurel (June Lang) -- provided she move from Scotland to India, where she and her aunt Lady Vi Ormsby (Anne Grey) will reside with Vi's handsome brother, Colonel Gregor MacGregor (Vernon Steele) of His Majesty's Service. After nearly setting fire to their lodgings while trying to cook a fish, the penniless Stan and Ollie are booted out into the street, with Ollie rendered pants-less by a previous misadventure. Heading to a tailor shop to get a new suit of clothes on approval, the boys inadvertently join the British Army, and soon they're shipped off to Colonel MacGregor's regiment in India. Accompanying our heroes is Lorna's sweetheart, law clerk Alan Douglas (William Janney), who has joined the army to be reunited with his lady love. This could prove disadvantageous to Lady Vi, who has been scheming to separate Alan from Lorna and marry off the girl to Col. MacGregor, thereby gaining control of Lorna's fortune. Meanwhile, Stan and Ollie get off on the wrong foot with their grouchy Sergeant (James Finalyson), redeeming themselves only when they help put down a native uprising (with the assistance of several fully-occupied beehives!) Though it proved to be their biggest moneymaker to date, Bonnie Scotland was one of the weaker Laurel & Hardy features, with far too much time devoted to the supporting characters. Too, the picture was rather raggedly re-edited after several unsatisfactory previews: as it now stands, the film stops cold after 80 minutes, without even bothering to wrap up the plotline. Still, it contains two of the team's funniest sequences: the boys' impromptu dance to the tune of "A Hundred Pipers", and the classic marching scene, wherein an out-of-step Stan manages to convince everyone in the regiment that they're out of step! Bonnie Scotland was later reissued theatrically as Heroes of the Regiment, and was distributed to TV in four abridged versions, each running approximately 20 minutes: All Wet, In a Mess, The Rookies and Bang! Bang!
Critic Reviews for Bonnie Scotland (Heroes of the Regiment)
Audience Reviews for Bonnie Scotland (Heroes of the Regiment)
There are no featured audience reviews yet. Click the link below to see what others say about Bonnie Scotland (Heroes of the Regiment)!
Bonnie Scotland (Heroes of the Regiment) Quotes
There are no approved quotes yet for this movie.