Boogeyman
(2005)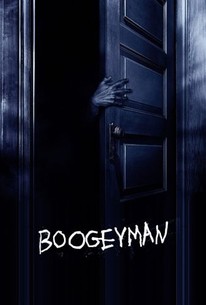 Movie Info
Tim is a seemingly normal, twenty-something guy. He's got a decent job and is moving fast in his relationship with his girlfriend Jessica. But an intense, paralyzing fear that has been terrifying him since childhood is tearing him apart. When Tim was eight, each night his dad would put him to sleep with a bedtime story. Until that one fateful night. As Tim watched from his bed, his father was violently sucked into the closet, and was never seen or heard from again. Tim is terrified that the Boogeyman will return and take him as he has taken so many before. Until now he has coped by eliminating opportunities for the Boogeyman to get to him. He has removed every dark corner in his apartment; there are no closets, and his bed is on the floor so the evil force has nowhere to hide. When Tim is forced to move outside his comfort zone on a Thanksgiving trip to Jessica's parents, he leaves this protected world. After a disturbing dream about his estranged mother, Tim awakens in a cold sweat. His cell phone rings. His mother has died. After the funeral, Tim visits the children's psychiatric hospital where he spent many years after the disappearance of his father. His former counselor reiterates what she has known all along--that in order to get over his fears, he must spend a night alone in the old house and confront things head on. Tim tries to relax and enjoy a reunion with his childhood best friend, Kate, but as Tim relives the past, his crippling fear returns. Tim turns to the only person who shares his fear, Franny, a precocious and mysterious young girl who first appeared at his mother's funeral. She is the only one who sees what he sees--and Tim draws on Franny's courage and advice to face the Boogeyman. But when he discovers that Franny was abducted years ago and has been missing ever since, he realizes that the line separating what is real and what is not has vanished. Now Tim must fight to put the evil force and the demons to rest in a final battle to save his life. But how can he know what is real and what is imagined?
News & Interviews for Boogeyman
Critic Reviews for Boogeyman
Audience Reviews for Boogeyman
Nothing original and not many scares. Cool to watch around Halloween, but not something I'd recommend considering the acting is pretty shoddy and the narrative is predictable and testing.
Sophie Burgess
Super Reviewer
Boogeyman is one of those horror films that every critic hated and you end up realizing it's not as bad as what everyone has said it was. This is an average film with a pretty good story, and shouldn't be viewed as the worst horror film. The film is flawed, but there are far worst flicks in the genre than this one. Yes, the film is weak at times, but for the most part, it succeeds at being a mindless horror film, which is what it is. Boogeyman is not to be taken so seriously. There's a decent cast of actors that grace this film but the film does suffer from a somewhat lacking script and relies too much on special effects, which if toned down slightly would have a better scar factor on the viewer. There is tension found within this film, but it never really is truly scary. On a production design standpoint, the film looks excellent and has incredible sets, especially the main characters house. Overall Boogeyman is a pleasant time waster not to be taken seriously, if you do that you may just have a mindless fun viewing experience. Boogeyman is lots of fun from start to finish, and is the perfect film for you to simply shut your brain and have a mindless film night. I really don't see the hatred towards this film, sure it's not the best, but it definitely is better than a lot of films that are currently being put out nowadays. Never truly scary, Boogeyman has plenty of tense moments to keep you interested. A much underrated film, one that should not be quickly dismissed.
Well I always check under my bed. There are far worst creatures than boogeyman. This was scary indeed. There were some moments that made me jumped literally. Though I would say my scare level wasn't high enough as I could go to sleep peacefully after watching this at mid night. I would say this was decent. Mysterious. Confusing. Frightening. Everything I could think of (except humor). Can't wait to see the second part. Hope that will be better than this.
Dead Angel
Super Reviewer