Boogeyman 2
(2007)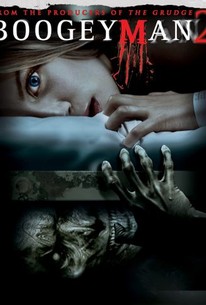 AUDIENCE SCORE
Critic Consensus: No consensus yet.
Movie Info
A young woman attempts to cure her phobia of the boogeyman by checking herself into a mental health facility, only to realize too little too late that she is now helplessly trapped with her own greatest fear. Editor-turned-director Jeff Betancourt takes the helm for this Ghost House Pictures shocker scripted by Brian Sieve and starring Tobin Bell, Danielle Savre, David Gallagher, Michael Graziadei, and Mae Whitman.
Critic Reviews for Boogeyman 2
All Critics (3) | Fresh (2) | Rotten (1) | DVD (3)
Makes a good argument as a slasher film that's worth spending your time on...
...generally comes off as a better-than-expected and refreshingly brutal little horror flick.
A whole lot gorier than the first one. I love how the beloved PG-13 gets tossed in the dumpster once the letters "DTV" are brought up.
Audience Reviews for Boogeyman 2
½
Sequel to Boogeyman, this is a poor attempt at delivering a good, horrifying and fun experience. This is a horrible film, and considering that the first was a good, underrated flick, you'd understand why this one might be bad. I felt that whatever made the first film watchable was absent, and the filmmakers simply took elements of the first film to make this film. Unfortunately there's nothing good at work here, nothing new to thrill or entertain the viewer neither. Boogeyman 2 is a pointless and quite frankly unnecessary sequel to a good little horror film. This film is just not what the first film was, and that's a mindless, entertaining monster flick. I think that there was a lot of potential in delivering a watchable sequel, but with this film, it misses the mark, and ends up being a film with nothing good about it. This is a poorly conceived sequel, and considering this, Boogeyman should never have had a follow-up. The acting here is pretty poor and the script is bland and like I stated, relies on ideas explored upon in the first film, thus a sequel was not needed. The studio just wanted more money with a sequel, and it's the case with this film. No creative effort was put into this film, and the end product is a film that is poorly done, lazy and uninspired with a poor cast to act out stuff we've seen in the first flick. If you've seen the first film, and haven't seen the sequels, don't, you'll be glad you did, and you're not missing out on much.
½
If this wasn't the sequel of the first one, then it would have been awesome. But it just ruined everything. It became more of a slasher than supernatural. I liked the story and acting and everything. But it's supposed to carry on with the starting right? We are talking about Boogeyman! Not some maniac! Jeez. They should have kept the originality of the movie. If they wanted to change the whole theory, then just change the title of the movie and also don't attach it with the first one. It's misleading.
Dead Angel
Super Reviewer
Loose sequel to the mind numbingly drab original. It also seems like a remake of Nightmare on Elm Street 3. Bunch of headcases in a hospital start to get killed off. This film eliminates the supernatural elements and goes for a slasher approach. This does allow them to save money and get rid of that horrible CGI thing from the first film. It isn't enough though. Bell is a nice addition but plays it pretty much as he does in the Saw movies. The twist may have though it was being brave and dangerous, but this tactic has been used in other slasher series.
Luke Baldock
Super Reviewer
Boogeyman 2 Quotes
There are no approved quotes yet for this movie.