Border (Gräns)
(2018)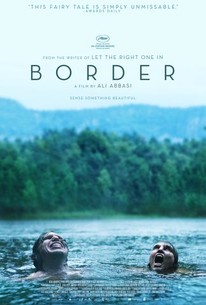 TOMATOMETER
AUDIENCE SCORE
Critic Consensus: Thrilling, unpredictable, and brilliantly acted, Border (Gräns) offers a singular treat to genre fans looking for something different.
Movie Info
Customs officer Tina is known for her extraordinary sense of smell. It's almost as if she can sniff out the guilt on anyone hiding something. But when Vore, a suspicious-looking man, walks past her, her abilities are challenged for the first time ever. Tina can sense Vore is hiding something she can't identify. Even worse, she feels a strange attraction to him. As Tina develops a special bond with Vore and discovers his true identity, she also realizes the truth about herself. Tina, like Vore, does not belong to this world. Her entire existence has been one big lie and now she has to choose: keep living the lie or embrace Vore's terrifying revelations.
News & Interviews for Border (Gräns)
Critic Reviews for Border (Gräns)
Audience Reviews for Border (Gräns)
SMELLS LIKE MEAN SPIRIT - My Review of BORDER (4 Stars) Nominated for Best Achievement in Makeup and Hairstyling at this past Academy Awards, BORDER slipped by me when initially released, but I caught up with it on YOUTUBE. From writer/director Ali Abbasi along with co-writers John Ajvide Lindqvist (LET THE RIGHT ONE IN) and Isabella Eklöf, the film exceeded my already high expectations and may just be the most unsung film of 2018. Simultaneously the stuff of fairy tales and nightmares, BORDER takes a very David Lynchian concept and humanizes it far more than I thought possible. The filmmakers tell the story of Tina (Eva Melander), a Swedish border guard who resembles the distaff version of the GEICO Caveman. Known for her keen sense of smell, Tina has the uncanny ability to sniff out contraband or even guilty feelings. One day, Vore (Eero Milonoff) passes through and gets stopped. He looks cuts from the same cloth as Tina, and her fellow inspector reveals that Vore possesses some unexpected anatomy. Voreï¿ 1/2(TM)s attraction to Tina feels palpable, animalistic even. Thus begins their extremely unorthodox relationship. Around the same time, Tina exposes one traveler as a trafficker in child pornography. Her police boss, Agneta (a commanding and perfectly measured Ann Petrï¿ 1/2 (C)n) uses Tina to help locate the people at the center of this ring. How this may or may not relate to the central storyline reveals itself as the film unfolds. BORDER, while steeped in the grunge of dank forest locales and visceral sexuality, plays like a classic fable. To reveal anything more about where this story goes would spoil the experience, but suffice it to say, itï¿ 1/2(TM)s unforgettable. Itï¿ 1/2(TM)s a film about identity, about what it means to be human, and thematically would make a great double bill with Jonathan Glazerï¿ 1/2(TM)s 2013 mindbender, UNDER THE SKIN, which starred Scarlett Johansson as a mysterious person out of place on this earth. BORDER places its characters in increasingly heightened situations, forcing them to reveal their most base of instincts. Occasionally surreal, it still stays focused on every nuance emanating from Melanderï¿ 1/2(TM)s touching facial expressions. It doesnï¿ 1/2(TM)t matter how many pounds of makeup she and Milonoff find themselves under, these two actors bite into their roles with an almost operatic abandon and convey so much emotion. Filled with nudity, dirt, wetness, and powerful sexual tension, Abbasi fills the screen with an array of memorable images. Think ERASERHEAD meets THE EMERALD FOREST for starters. With spare dialogue, it almost plays out like a silent film, communicating so much with the slightest sniff of a nose or baring of teeth. BORDER upends gender and morality in its search for our characters to truly be who they are inherently. Tina, who prior to meeting Vole, lived a quiet existence with her benign but distant boyfriend Roland (Jörgen Thorsson). Stuck in their relationship rut, her life consists of work, dull nights at home, and the occasional visit with her Dad, who suffers from dementia and stays at an assisted living facility. Vole upends her entire world and changes the dynamics in all of her pre-existing relationships. Burning with charisma, Vole would be a Manson-esque cult leader in another story. Here, heï¿ 1/2(TM)s rife with possibilities both sweet and exceedingly nefarious. For those seeking a little adventure in their filmgoing experience, BORDER gorgeously fills that bill. Some imagery may be disturbing to some, but it presents almost everything as perfectly natural. Go for the intense growling and stay for the underlying gentleness. BORDER has sharp teeth and a warm heart.
Glenn Gaylord
Super Reviewer
½
Despite dragging a bit towards the end, this is an atypical fantastic romance that can be more bizarre and shocking than one would imagine - and Eva Melander and Eero Milonoff are phenomenal under tons of incredible makeup that almost made me believe their characters were real.
Carlos Magalhães
Super Reviewer
Border (Gräns) Quotes
There are no approved quotes yet for this movie.