Bordertown
(2007)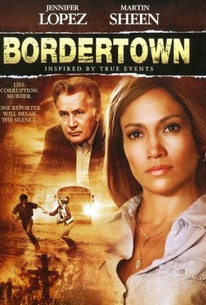 AUDIENCE SCORE
Critic Consensus: No consensus yet.
Movie Info
The celebrated Latino director Gregory Nava (American Family) helmed, scripted, and co-produced (with star Jennifer Lopez) Bordertown -- a suspense thriller with an A-list Hispanic cast. Lopez portrays Lauren Adrian, an American correspondent from a Chicago newspaper, who longs to cover the U.S. occupation of Iraq. Instead, Lauren's mentor at the paper, George Morgan (Martin Sheen) reassigns her to Mexico. She is promptly shuttled off to Juarez, a troubled community on the Texas-Mexico border rattled by a series of brutal, unsolved homicides. The victims -- all young women, employed in the maquilla plants that manufacture electrical components for exportation to the U.S. -- are uniformly found raped and strangled to death. One of those women, Eva, manages to escape her captors (who believe her dead) and flees not to the corrupt police, but to the local newspaper. There, her life intersects with those of Lauren and Lauren's former boyfriend and lover, the reporter Alfonso Diaz (Antonio Banderas). Suddenly, Lauren foresees, in the prospect of reporting Eva's story, an assignment that could bring her closer to Iraq than she ever dreamed possible. Sonia Braga (Kiss of the Spider Woman), Maya Zapata and Juan Diego Botto co-star.
Critic Reviews for Bordertown
All Critics (3) | Top Critics (1) | Fresh (2) | Rotten (1) | DVD (3)
An unforgettable if sometimes heavy-handed film.
February 19, 2008

Jennifer Lopez plays it tough and down and dirty, on the Mexican border.
The biggest weakness of Bordertown is its heavy-handed over-simplification of complex political and economic issues. That and Jennifer Lopez's massive ego.
September 5, 2007 | Rating: 61/100
Audience Reviews for Bordertown
A film trying hard to be worthy but only succeeding in appearing shallow and exploititive. J.Lo is one of those "non-actors" who's lack of presence and skill seems to have a detrimental effect on all the real actors around her as they are sucked in to fill the vacuum.
The Shrewlord
Super Reviewer
What an incredible story of a woman reporter who neglectfully takes on an investigative assignment that takes her on a dark journey that reminds her of her own past. See this...it definitely shows what happens when poor people are underpaid, overworked, with no labor or human rights.
Fascade Fiveoneeight
Super Reviewer
½
Across the border from its peaceful and prosperous twin city of El Paso, Ciudad Juarez not only has the highest murder rate in Mexico but it has also been ground zero for up to 5,000 femicides over the last ten years. With local authorities refusing to investigate and covering up the murders as best as they can it has become an international symbol for the struggle for women's rights. Is there a good film to be made here? I am not sure if there is. There are easily dozens of terrible ones, however, and this is no exception. This film is so incompetent and so confused as to what it wants to be that it very quickly becomes nigh unwatchable. Rather than the story of Juarez this is a movie about Jennifer Lopez's reporter, her troubles and how she heroically puts everything on the line to do the job local law enforcement is unwilling to do. Yes, ladies and gentlemen: the reason women have been and continue to be killed in Juarez is because J-Lo has not taken it upon herself to put a stop to it. You know, kind of like how you only live because Chuck Norris allows you to. Beyond that the film is littered with throwaway roles that only exist so celebrities such as Martin Sheen, Antonio Banderas and Juanes can go on record as having put theirnames behind the cause of bringing awareness to the plight of the women of Juarez. There are ridiculous action sequences, ridiculous suspense sequences, a ridiculous villain and an even more ridiculous conclusion. The movie's performances are bad, its screenplay shoddy and its direction uniformly terrible. This is an insult to the thousands of mothers, sisters and daughters who have lost their lives for the simple fact that they are women. And yet...there are small details, ideas that the film raises sometimes by accident that hint as to the film that could have been. The Juarez presented is a den of degradation, a city constructed from the bottom up by the exploitation of women in order to facilitate the exploitation of women. Strip clubs litter the streets, prostitutes expose themselves to danger on every corner, factory workers risk their lives every day for pittance and all for the sake of an economy that is predicated on equal parts tourism (much of it of the sexual variety) and outsourced factories from the north. The film also argues, at one point, that in this day and age nationalities and geographical boundries are a thing of the past as international conflict and domestic issues do not concern the wealthy as they are a country unto themselves regardless of their origin. Needless to say the film neither explores these things nor even bothers bringing them up again. It does, however, imply that the production team must have had a very good advisor at some point even if they almost completely ignored his or her input. Label this one under garbage with dellusions of grandeur simply because it is (kinda sorta but not really) is about a social issue. Garbage is garbage all around, ladies and gentlemen, and this is garbage.
Bordertown Quotes
There are no approved quotes yet for this movie.