Born
(2007)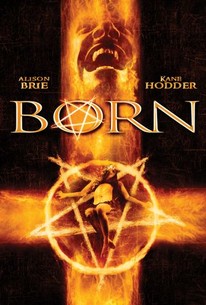 AUDIENCE SCORE
Critic Consensus: No consensus yet.
Movie Info
A twenty one year old virgin awakens one morning to discover that she has somehow become pregnant with a demon fetus that commands her to kill in order to create a bloody hell on earth. Mary Elizabeth has never been with a man, but now she carries the seed of Satan. Now, as her unborn spawn takes possession of her soul and sends her on a murderous rampage, Mary discovers the dark side of immaculate conception. Joan Severance and Kane Hodder star.
Audience Reviews for Born
½
One star for chucking Alison Brie and Kane Hodder into the same movie, and the second star for being fucking hilarious. It's unpleasant to watch, but there is a lot of "Laugh at" moments on offer. Things like the lead having siblings that are twice her age, the standard-rate awful CGI you find in movies with this low a budget, and the absolute worst body-double nudity I've seen to date.
Hardly classic cinema it also fails to entertain. For the first hour it was hilarious but then even the poorness descended into mediocrity. Highlight of the film was definitely a poorly animated demon baby closing its mother's stomach like a door after a botched abortion attempt. Not to mention the acid instead of breast milk. An albino caretaker, gun wielding priest and slutty best friend keep the film going even if Alison Brie's poor performance, as she tries to create multiple characters including the voice of her own baby, seriously threaten to undermine what is already a joke of a film.
Luke Baldock
Super Reviewer
Born Quotes
There are no approved quotes yet for this movie.