Nés en 68 (Born in 68)
(2008)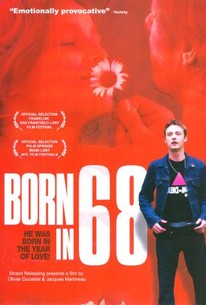 Movie Info
A group of revolutionary students experiences rebellion, enlightenment, and change while establishing a commune devoted to free love, anarchy, and nudism, only to see their children eventually engage in a similarly styled rebellion 20 years later. The year was 1968: Catherine, Yves, and Hervé were 20 years old, and the revolt in May had turned their lives upside down. Enamored by the concept of communal utopia, the three friends move into an abandoned farm in the Lot region and establish a commune. Over time, their longing for freedom and personal accomplishment finds many of the friends walking away from the micro-society they worked so diligently to establish. Flash forward to 1989, when Catherine and Yves' children witness the fall of communism, and the onset of the AIDS epidemic. Much like their parents years before, the disillusioned youths begin to question the generation that preceded them while longing for a better world than the one they were born into.
Critic Reviews for Nés en 68 (Born in 68)
Audience Reviews for Nés en 68 (Born in 68)
½
"Born in 68" starts in the heady days of student protests of May 1968. Catherine(Laetitia Casta) has other things on her mind as she has an illegal abortion after having been knocked up by Yves(Yannick Renier) and/or Herve(Yann Tregouet). There are complications and she is rushed to a hospital by her friend Caroline(Kate Moran) while the guys distract the police. While recuperating at home, Catherine hides Jeremie, a draft dodger, from the police. After things have calmed down, he informs the group of a farm in the country where they can start a commune and Catherine and Yves can start a family. However, Maryse(Christine Citti), a perplexed but friendly neighbor, informs them that Jeremie may not have been entirely forthright... "Born in 68" is a multigenerational epic that tells a political story of France from 1968 to the present day, as the years skip by in a flash, in personal terms. In days of conflict, violence, which never solved anything, lurks in all corners, from police, temptation and the past. Even as a larger revolution may have failed, other changes were more successful as the idea of self-determination was defined as being more than just about the ballot box, especially on the subject of abortion and gay rights.(Knowing little of French political history, I had previously assumed that French presidents were all left of center until Sarkozy. Maybe it's all a matter of perspective.) The movie does not sugargoat the experience of commune life(a reminder of how hard it is to get a unanimous consensus on anything), even with free love and naked frolicking going on, so relax. As the characters' destinies are laid out, I would still have liked to know what happened to Caroline since she is a central part of the early story.
Nés en 68 (Born in 68) Quotes
There are no approved quotes yet for this movie.