Born on the Fourth of July
(1989)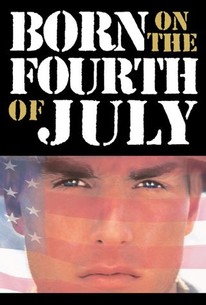 TOMATOMETER
AUDIENCE SCORE
Critic Consensus: Led by an unforgettable performance from Tom Cruise, Born on the Fourth of July finds director Oliver Stone tackling thought-provoking subject matter with ambitious élan.
Born on the Fourth of July Videos
Born on the Fourth of July Photos
Movie Info
The second of three films by co-writer/director Oliver Stone to explore the effects of the Vietnam War (Platoon and Heaven and Earth are the others), Born On The Fourth Of July tells the true story of Ron Kovic (Tom Cruise), a patriotic, All-American small town athlete who shocks his family by enlisting with the Marines to fight in the Vietnam War. Once he is overseas, however, Kovic's gung-ho enthusiasm turns to horror and confusion when he accidentally kills one of his own men in a firefight. His downfall is furthered by a bullet wound that leaves him paralyzed from the chest down. He returns home, spends an appalling, nightmarish stint in a veterans' hospital, and follows an increasingly disillusioned and fragmented path that ultimately leaves him drunk and dissolute in Mexico. However, Kovic somehow turns himself around and pulls his life together, becoming an outspoken anti-war activist in the process. The film is long but emotionally powerful; many consider it Stone's best work and Cruise's best performance. Both were nominated for Oscars, as was the film itself, but only Stone, who co-wrote the film with Kovic from the latter's book, won for Best Director. ~ Don Kaye, Rovi
News & Interviews for Born on the Fourth of July
Critic Reviews for Born on the Fourth of July
Audience Reviews for Born on the Fourth of July
½
Born on the Fourth of July is a solid, well acted and brilliantly directed Anti war film. Based on the true story of Vietnam War veteran Ron Kovic, who due to a wound, became paralyzed. Through years of struggle, Kovic finally was able to get his life back on track and become an anti war activist along the way. Tom Cruise gives a great performance as Kovic. This is a stunning film that is an eye opening viewing, and Oliver Stone did a great job here. This is one of his finest films, and this is a great departure from his previous Vietnam War film, Platoon, which is hands down Stone's greatest work. However with this film, he crafts a masterful film yet again, and captures a totally different side of the Vietnam War struggle, in part the struggle that many Vietnam War veterans had to endure when coming home from the war. This is a great film with a powerful story, and you see it through Ron Kovic's eyes as he became disillusioned afterwards, and how he dealt with it, and ultimately redeemed himself by becoming a voice for the anti war movement. The performances are great and the story is enthralling and this is a must see for even war film fans. This is a superb film that is among Stone's strongest directorial efforts. Tom Cruise is terrific in the part, and this is actually one of many of his best performances. This is a superb film that is powerful and thought provoking. With a great cast and a captivating story, Born on the Fourth of July is a must see for film fans.
½
This is the second film in Oliver Stone's trilogy about the Vietnam War, and for this one, he decided to adapt (along with Ron Kovic), Kovic's autobiography about his life, and how he went from proud and patriotic all-American to crippled war veteran who became a fervent anti-war protestor. And you know what? This film really is terrific. Yes, it has IMPORTANT stamped all over it, and sure, it is emotionally manipulative and takes a very "damned if you do, damned if you don't" stance towards the experiences of veterans, but we need stuff like this, and it is a very welcome voice in the debate about the experiences of Vietnam veterans and how one's whole life can be shattered and changed once they experience unimaginable horrors and return home to a country that changed so drastically in just a short amount of time. This is all very fascinating stuff, and, despite the polemic nature of things, it is well done, and even though a bias is present, all sides do get some sort of representation, so the film isn't quite on the same level as something by Michael Moore for example. Kovic was and is a very proud American, and yes, the film proves you can still be very patriotic even if you're anti-war. It's really a good blend of character study and philosophy, and that wasn't something I was expecting. It's also not nearly as heavy handed as I was expecting, though it is very heavy with the sentimentality, especially where John Williams's (solid) score and the cinematography (everything is shot in filters of either red, white, or blue depending on the emotional level or context of things) are concerned. The cast that Stone rounded up is quite notable too. There's tons of recognizable names present, even if many of them have no more than just a few moments or even a couple of lines of dialogue. The big roles are cast wonderfully though, featuring the likes of Kyra Sedgwick, Willem Dafoe, Raymond J. Barry, and Tom Cruise in the lead as Kovic. This was the first time Cruise tried for something dramatic, serious, and very challenging. Not only did he pull it off, but this is still one of his all time best performances. You know, the kind which prove he really can act. There's lots of great moments throughout, and they all are at different emotional levels. Two that really stick out for me however, are scenes that are dramatic (and are supposed to be), but still managed to unintentionally be hilarious as well. Those two scenes are the argument/breakdown where Ron screams profanities and the word penis loudly at his mother while drunk, and the wheelchair fight between Cruise and Dafoe. I felt kinda bad laughing, but I really just couldn't help it. No matter your opinions on Cruise, Stone, or the subject matter, you really should give this one a watch. It is designed to provoke all sorts of reactions, and though it is unapologetic in its presentation, it is a worthy and remarkable film.
Chris Weber
Super Reviewer
½
This is some fine directing right here from Mr. Political Subject himself. This movie uses one of the oldest tricks in the book for dramatic effect....Slowmotion....and it does it really well. Tom does possibly his best role here? And it's a very interesting story. Willem Dafoe makes a brief but oscar worthy apperence. There are a lot of very beautiful shoots in this movie. Escpecially that first shoot after we cut to the war. That is just iconic. This movies story draws many similarities to The Deer Hunter but it's still very diffrent and uniqe. A really good movie and a great work by Tom Cruise
Martin Sahlin
Super Reviewer
Born on the Fourth of July Quotes
| | |
| --- | --- |
| Donna: | I got a face like a rotting pumpkin. |
| | |
| --- | --- |
| Ron Kovic: | F*** You, Willie. |
| | |
| --- | --- |
| Ron Kovic: | Well, I Love America. |
| Ron Kovic: | Well, I love America. |
| | |
| --- | --- |
| Ron Kovic: | People Say That If You Don't Love America, Then Get The H*** Out. |
| Ron Kovic: | People say that if you don't love America, then get the hell out. |