Born to Fight (Knockout)
(2011)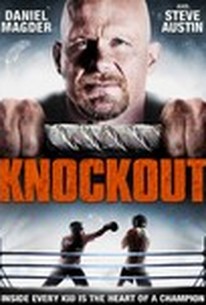 AUDIENCE SCORE
Critic Consensus: No consensus yet.
Born to Fight (Knockout) Photos
Movie Info
Dan Barnes (Steve Austin) is a former pro boxer who retired after growing weary of his violent existence. Now a school janitor, Dan tries to help a new student, Matthew Miller (Daniel Magder), who is being targeted by bullies. While Matthew learns how to box and stand up to his tormentors, one of whom is the school boxing champ (Jaren Brandt Bartlett), Dan's new found role as a teacher helps him come to terms with his tumultuous past.
Critic Reviews for Born to Fight (Knockout)
All Critics (2) | Fresh (2) | Rotten (0)
Feel-good boxing tale, but frequent bullying and taunting.
Lacks a great deal of innovation, but it retains an impressive reservoir of charisma to help squeak it through the rough patches, making for an atypically pleasant picture from star Steve Austin.
Audience Reviews for Born to Fight (Knockout)
We all know that WWE isn't in movies for the Blockbuster films it releases. WWE though does release some great family fun movies and I appreciate that about them. Movies used to be simple at one time, you could pretty much predict the movie from the beginning to end (and while they are not typically what I enjoy as a child it's fun or with family it's fun) and that's basically what Knockout was. You knew what would happen from the very get-go and there wasn't a part of this movie that I didn't predict. It was the typical bullied boy rising up against the bullies in which he strived for respect. It wasn't about winning or losing, but, about standing up for yourself, believing in yourself, and knowing that as long as you do your best in life you'll be self-satisfied and respected by others. WWE nailed those morals in this family-friendly movie where Steve Austin stars as Dan Barnes the school Janitor that trains the bullied nerd to be a respected boxer by the end of the movie. Austin did a good job at acting, in my opinion, in terms of WWE Superstars he's the best actor that came out of them along side Dwayne Johnson. The main character for no one I've heard of before played a fine role and while some of the others were lackluster actors and pretty cheesy in general, it was what I expected, and to me scores an average expected rating. It's a movie that you watch with your family and children, has some good morals, and some fair acting but not so in depth that it loses the young ones. It's enjoyable and I appreciated it not for being a great amazing movie but for being what it was meant to be as it did achieve that.
Bobby Hobbs
Super Reviewer
Despite the unfortunate factor that it was a low budget made for tv type of movie feel...this movie delivers that lesson that never fails...the bully should never win.Enter a new student into a school Matthew Miller (Daniel Madger) that is trying to blend in with the other students, when he attempts to do so , He meets two loyal ones and two disrespectful ones that bully him with no mercy. Enter the guiding eye of Dan Barnes (Steve Austin) that used to be a pro boxer catching the sight of the new student being bullied from time to time...Dan becomes a tutor to Matthew until Matthew decides to get unauthorized consent for after class boxing lessons...so he can defend himself...from further being bullied. When he decides to enroll into a boxing class...he notices that his nemeses is also in the same class. This movie will take you on a journey to show you that you can achieve your goals if you don't give up. See this...it is true a good spirit of a movie!
Fascade Fiveoneeight
Super Reviewer
This movie is literally a knockout. A strong and very inspirational movie with lots of punch and even more heart. It's The Karate Kid for a new generation. A rousing, heart-warming and truly wonderful film. A terrifically entertaining and exciting drama that has a compelling story and great characters with actors that suit them well. Finally a story about high school kids and bullying with actors who are actually the age and appearance of what average teens look like. Daniel Magder and Steve Austin are excellent, they give strong and great performances. This is Austin's best performance so far, showing he is more than an great action hero but a great actor.
Born to Fight (Knockout) Quotes
There are no approved quotes yet for this movie.