The Borrower
(1989)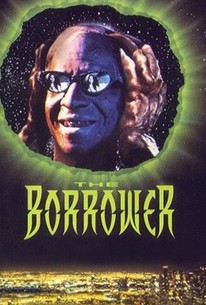 Movie Info
Rae Dawn Chong and Don Gordon are an unlikely detective duo in The Borrower. Assigned to investigate the death of a local poacher, Chong and Gordon run afoul of "The Borower," an extraterrestrial serial killer who, when his head is blown off, appropriates the noggins of earthlings in order to commit his nefarious deeds without detection. Yes, we've seen this before in The Thing, but there are enough nuances and plot twists to keep things percolating. Even the "The End...or is It?" denouement is pulled off with finesse. Director John McNaughton deserves effusive praise for creating a nightmarish ambience for his story simply by utilizing existing structures and locales. And those combustible special effects-yow!
Critic Reviews for The Borrower
Audience Reviews for The Borrower
½
I would have been giggling the entire time I was making this film. An outlandish premise is given the exact right balance of straight-laced presentation and giddy you've-got-to-be-kidding-me delight.
The Borrower Quotes
There are no approved quotes yet for this movie.