Boss of Bosses
(1999)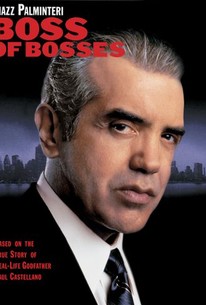 AUDIENCE SCORE
Critic Consensus: No consensus yet.
Movie Info
Dwight H. Little's Boss of Bosses is a biopic of former crime boss Paul Castellano. Unlike many real-life and movie crime lords, Castellano (embodied by Chazz Palminteri) kept drugs out of his organization and strove to legitimize his empire. This film aired originally on TNT, making the language and violence much more toned down than one might expect. The movie would make an interesting double feature with Gotti, the biopic of the man who followed Castellano as the head of the Gambino crime family. Palminteri does a fine job with the complex role. His co-stars include Jay O. Sanders and former Murder One star Daniel Benzali.
Critic Reviews for Boss of Bosses
All Critics (1) | Top Critics (1) | Fresh (0) | Rotten (1) | DVD (1)
Bosses...answers no questions about Castellano and his motivations or even explains his intense dislike of rising mobster John Gotti or why he saw a life for himself in the arms of his Colombian housekeeper, Gloria.
Audience Reviews for Boss of Bosses
As a lover of mob films, I was disappointed with Boss of Bosses, a lackluster biopic of Paul Castellano. It succumbs to conventional storytelling, with no real sense of energy or genuine character dynamics, simply scenes of exposition interspersed with back-story. Chazz Palminteri did what he could, but ultimately the script didn't give him much to go off of. In the end, the viewer knows more about the life of Castellano, but receives no real insight into the man. The story line involving John Gotti was also horribly and dully handled, while it should have been the main narrative drive. 2/4 Stars
Jeffrey Meyers
Super Reviewer
Boss of Bosses is a little known made for TV movie. Despite the fact that it is a different cast and crew, it was intended as a prequel, to 1996's Gotti, telling the story of Paul Castellano. Castellano was known as the brains behind the mafia's 1980's re-emergence. He believed more in white collar crime, than in organized crime. Castellano was old school and a smart man, the film portrays him as such, but it also tries to play down the fact that he was a criminal who stole millions and hurt a lot of people. Chazz Palminteri was amazing, he was made for roles like this, and shines once again as a hardened, but loveable criminal. As for the film, it's apparently very accurate, and tells you a lot about a private man, that we generally don't hear much about. I enjoyed it quite a bit. The fact that it was made for TV and lacked the nudity and the F bombs, didn't really matter, it was still a very enjoyable film and an excellent companion to Gotti.
Todd Smith
Super Reviewer
Boss of Bosses Quotes
There are no approved quotes yet for this movie.