Bottoms Up
(2006)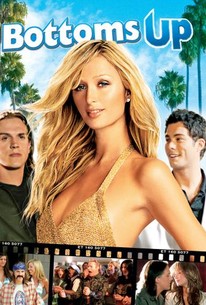 AUDIENCE SCORE
Critic Consensus: No consensus yet.
Movie Info
A Midwestern bar tender hungering for life in the fast lane enters a Hollywood King of the Bar contest in this fast-paced showbiz satire starring Jason Mewes and Paris Hilton. Owen Peadman (Mewes) is Minnesota's "Golden Boy" of bartending, but the Midwest has grown a little bland, and now Owen is looking make a name for himself in the thriving L.A. nightclub scene. When Owen gets word of a high profile bartender contest with a hearty cash prize, he sets his sights on Hollywood and prepares to knock the judges dead. Unfortunately for Owen things don't quite work out as planned, and after losing out to a well-known L.A. barman he is forced to seek the help of his flamboyant Uncle Earl. A fast-talking producer of a popular tabloid new program, Uncle Earl offers Owen a job and the pair soon set out to get the scoop on Hayden Field - the hottest young star around. Getting to Hayden isn't going to be easy though, and after hatching a plan to befriend Hayden's glamorous girlfriend Lisa Mancini (Hilton), the one-time drink slinger find out just how wild the west coast nightlife can truly get.
News & Interviews for Bottoms Up
Critic Reviews for Bottoms Up
All Critics (3) | Fresh (0) | Rotten (3)
There's little merit in this crass, low-brow comedy except for some Paris Hilton curiosity value.
November 24, 2007
Jason Mewes woos Paris Hilton. Everything else is just roadkill.
...Hilton, with her oddly misshapen head, disturbingly puffy lips and creepy lazy eye, is a far more incompetent actress than anyone might've suspected...
Audience Reviews for Bottoms Up
½
Bottoms up is honestly not a bad movie and I think people automatically assume and go into it thinking it is - because of Paris Hilton. Granted she is not the best actor in the world, but she was not bad in this... the storyline was fairly okay although it has been done more then a thousand times....and it was actually more then funny. Give this movie a watch on a bored night for a good laugh. It's worth that match. Ps: Why does Paris Hilton have Blonde hair on the cover but not once is her hair blonde in the movie? Hmph. Never figured that one out...
Bobby Hobbs
Super Reviewer
The story revolves around a young guy Jason Mewes from Minnesota going to Hollywood to win a bar competition in order to collect the $10,000 prize money to save his father's steak house. Unfortunately, he doesn't win so now he has to find another way to make money. He meets up with Paris Hilton, a rich snotty party girl (sound familiar), who actually is nice, kind, helpful towards the poor, and likes to read books (yea right, get real) who runs him over with her car whereupon he promptly blackmails her but instead of the money, he wants her to make him popular. Jason gets a taste of the scandalous lifestyles of the Hollywood upper crust while dealing with his growing romantic feelings for Lisa who just so happens to be dating TV hunk Hayden Field (Brian Hallisey).Will Jason find love, money and success in Hollywood??? Funniest character: David Keith as gay Uncle Earl is a riot pretending to be straight when he is the very definition of a flaming queen.
Bottoms Up Quotes
There are no approved quotes yet for this movie.