Bound
(1996)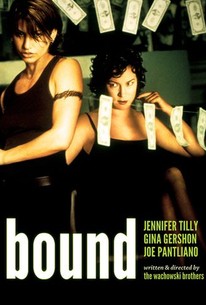 TOMATOMETER
AUDIENCE SCORE
Critic Consensus: Bound's more titillating elements attracted attention, but it's the stylish direction, solid performances, and entertaining neo-noir caper plot that make it worth a watch.
Movie Info
Gina Gershon and Jennifer Tilly nearly set the screen on fire in this clever, female-powered twist on the standard Mob caper film. Gershon is Corky, an ex-con renovating the apartment next door to where Tilly's Violet lives. Violet is the moll of psychotic gangster Caesar (Joe Pantoliano), who uses the apartment as an occasional location for meetings and beatings, and also uses Violet as an occasional plaything for his Mob cronies. Violet is attracted to the super-sexy Corky, and the two begin an intense affair. Corky hatches a plot to escape with $2 million that Caesar is planning to give to a Mob boss, and the mayhem escalates from there.
News & Interviews for Bound
Audience Reviews for Bound
½
A mobster's moll and her lesbian lover hatch a plan to rob $2 million from his gang. Bound was the debut of the Wachowski brothers and is a very slick post-Tarantino crime thriller that's heavily influenced by Film Noir. They take both plot elements and visual trappings from classic detective movies and mix in a sexual affair that no doubt makes this film very popular with the Thelma & Louise set. In fact the early scenes of seduction were no doubt rather shocking to mainstream audiences back in the day but now they seem a little clunky and contrived. Once the scam is put into action however, there are plenty of twists and turns to the plot, provided by Joe Pantaliano's hissably sexist thug and his failure to behave as they meticulously predicted. It's a kind of "battle of the sexes" set within the world of organized crime and although Jennifer Tilly's acting skills are rather limited, her breathless sex appeal papers over the crack in her performance. The Wachowski's provide some attractive visuals and although it does feel a little dated, it's certainly one of the best of the crop of Tarantino bandwagon jumpers of the 1990s and fans of the likes of True Romance should definitely give it a look.
After their excellent original script for the Richard Donner movie Assassins was significantly altered by re-writes, The Wachowskis (Andy and Larry (now Lana)) were given the chance to write and direct a movie of their own, and not only that, but with free-reign as well. The result is this nifty little convention tweaking neo-noir crime thriller Corky is a tough ex-con who, newly released from prison, begins work as a painter and plumber working out of her new apartment she's renovating. She lives next door to Violet, the disgruntled and fed up girlfriend of psycho sleazeball mobster Caesar. Violet dreams of leaving her current life and starting over. After beginning a clandestine affair with Corky, the two hatch a plot to steal $2 million from the mob and make Violet's dream a reality. Despite the superficiality of the plot, this is a slick and clever little thriller that takes something old and puts a nice twist on it. The action is intense, the atmosphere great, and, best of all, there's great characters who are wonderfully developed, and the way that the affair between Violet and Corky is handled is one of the best and most realistic lesbian relationships ever done in a mainstream film. Bravo. Strong writing only takes a character so far, but thankfully, these characters are brought to life by solid, believable performances from a stellar cast which includes Jennifer Tilly as Violet, Gina Gershon as Corky, and Joe Pantoliano as Caesar. The actual heist plot gets rather involved, but it's fairly easy to follow, and there's an unbelievable amount of suspense going on as things progress, and I found myself on the edge of my seat more than once. Give this one a watch. It's a snazzy genre film that tweaks formula, is quite tense, and handles lesbianism in a way that unfortunately isn't done as often as it should be. Also, the Wachowski's original script for Assassins can be found online. I highly recommend reading that as well.
Chris Weber
Super Reviewer
½
Awesome and rad would best words to describe the story of the film. With memorable scenes of twisted murder, Bound shows how the Wachowski brothers don't need millions of dollars to deliver a fantastic story.
Bound Quotes
| | |
| --- | --- |
| Corky: | You know what the difference between us is, Violet? |
| Violet: | What? |
| Corky: | Me neither. |
| | |
| --- | --- |
| Caesar: | Ceasar:what did she do to you? Violet:Everything you couldn´t. |
| Caesar: | What did she do to you? |
| Violet: | Everything you couldn't. |
| | |
| --- | --- |
| Corky: | Corky: [after making love with Violet] I can see again! |
| Corky: | [after making love with Violet] I can see again! |
| | |
| --- | --- |
| Corky: | Violet: I'm not sorry for what I did, I'm sorry for what I didn't do! |
| Violet: | I'm not sorry for what I did, I'm sorry for what I didn't do! |