Bowfinger
(1999)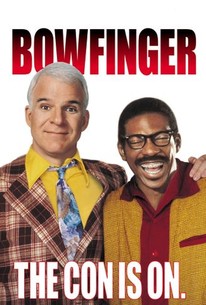 Movie Info
Bobby Bowfinger is a shameless wannabe film producer, who is desperate to break into the Hollywood big-time in spite of the fact that he's broke and unconnected. His plans are thwarted when he is unable to land Hollywood's hottest action star, Kit Ramsey for the lead roll in his movie. Undaunted, Bowfinger decides to make the film with Ramsey anyway, except that Kit won't know he's in it. Determined, Bowfinger and his motley crew surreptitiously stalk their unwitting star through the streets of Los Angeles. They film Kit's every move and trap him in scenes he doesn't know he is in, turning Kit's life into a paranoid nightmare, as Bowfinger's crazy schemes become more and more outrageous.
News & Interviews for Bowfinger
Critic Reviews for Bowfinger
Audience Reviews for Bowfinger
"Bowfinger" embraces the horrible things that have always come from Hollywood, from the scams to breaking the law, and displays them in a very comedic way in this film, making a film that is clearly going to be terrible from the beginning. Eddie Murphy and Steve Martin shows their true acting talents here as Martin's character runs around the city trying to film Murphy's character to make a film with him as the main star. Things conveniently fall into place and some scenes feel bit easy, but in the end the film is a blast to watch and it really made me laugh a lot. It's not the greatest film in the world, but if you are a fan of films, you should have a blast watching this. The director had an eye for detail her and the screenplay is genius. "Bowfinger" is great!
Bowfinger is a terrific comedy film. Steve Martin delivers a great performance. I'm usually not a big fan of Eddie Murphy, but in this film he truly is hilarious and gives one terrific performance. A unique comedy, Bowfinger is different from other comedies. The humour is smart, and the acting is great. Which is something that won't appeal to many film viewers, but to those who love this type of humour, give this film a view. The films story is very original, and Martin and Murphy give hilarious performances.
I actually think this is a great movie, it's Steve Martin and Eddie Murphy at the top of their game. Neither have made a better movie since, only making this look like even more of a gem. The movie within a movie aspect is done perfectly, I almost want to see a full version of the horrendous-yet-hilarious sci-fi epic they made. I think the shameless nature of a lot of the characters makes it a lot more realistic and likable than it might have been if they were good people.
Conner Rainwater
Super Reviewer
Bowfinger Quotes
| | |
| --- | --- |
| Kit Ramsey: | keep it together keep it together keep it together |
| Kit Ramsey: | Keep it together, keep it together, keep it together. |
| | |
| --- | --- |
| Dave: | But movies cost millions of dollars to make. |
| Bobby Bowfinger: | That's after gross net deduction profit percentage deferment ten percent of the nut. Cash, every movie cost $2,184. |
| | |
| --- | --- |
| Bobby Bowfinger: | Now that you and your colleagues here at Mindfu - , head have had a chance to think, what do you say? |
| | |
| --- | --- |
| Bobby Bowfinger: | [Interviewing Jiff for the movie] ... Would you be willing to cut your hair? |
| Bobby Bowfinger: | [Interviewing Jiff for the movie] Would you be willing to cut your hair? |
| Jiff Ramsey: | Well, yeah, but it would probably be better if someone else did it. I've had a few... accidents. |