Bowling for Columbine
(2002)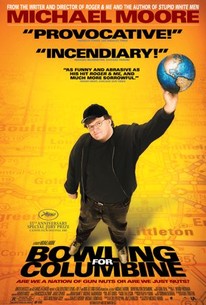 Bowling for Columbine Photos
Movie Info
A look at America's love affair with firearms and the pathology of violence in the United States, which has the highest gun-murder rate in the world. The question of why Canada - with 7 million guns for its total of 10 million households - doesn't suffer from the horrific gun violence of its large neighbor to the south is examined.
News & Interviews for Bowling for Columbine
Critic Reviews for Bowling for Columbine
Audience Reviews for Bowling for Columbine
½
With the school shooting in Colorado as a starting point Moore questions America's mood and resolution: Are guns the answer to the difficulties our society faces, or in fact one of the many problems that must be addressed? Like a late night barroom political conversation he's a little all over the map and lacking direction but his concerns are more than valid. A solid think piece.
Kevin M. Williams
Super Reviewer
You may not agree with Moore's sometimes questionable methods, but there is no denying that he presents some very strong arguments in this important, thought-provoking exposé of what drives and motivates these occurrences in a country where fear is instilled into people by a crippled system.
Carlos Magalhães
Super Reviewer
½
Michael Moore examines the social climate which resulted in the massacre at Columbine High School, when two socially awkward students armed themselves with automatic weapons and went on a killing spree. Michael Moore is very much a Marmite kind of film maker; people either love or hate him and his one man crusades against the established way of thinking. I personally applaud his willingness to stand up to those who would suppress the truth to promote their own agenda and let's face it, the American corporate system is the biggest propaganda machine in the world so anyone claiming that Moore is "biased" really ought to be taking a closer look at his opposition. In Bowling For Columbine he surprisingly does not point the finger directly at US gun culture (although there has to be something to be said for Chris Rock's ammunition pricing system! If it works for cigarettes...) Instead he examines the economic climate in which the local community had been drained of employment and opportunity, the media's sensationalist, fear-mongering agenda and the lack of hope that the educational system cultivates within the disenfranchised. Occasionally a little heavy handed (ending on a confrontation with Charlton Heston which comes across as the meaningless harassment of an old man was a mistake) but always informative and entertaining.
Bowling for Columbine Quotes
| | |
| --- | --- |
| himself: | It was the morning of April 20th 1999, and it was pretty much like any other morning in America. The Farmer did his chores. The milkman made his deliveries. The President bombed another country whose name we couldn't pronounce. |