La Caja 507 (Box 507)
(2002)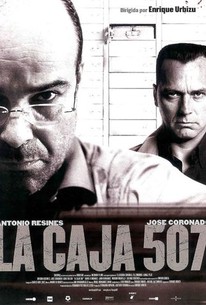 AUDIENCE SCORE
Critic Consensus: No consensus yet.
La Caja 507 (Box 507) Photos
Movie Info
Enrique Urbizu's thriller La Caja 507 (Box 507) is about two very different men looking for the same thing. Modesto (Antonio Resines) is a banker who loses his daughter Maria (Dafne Fernandez) when she dies after being trapped in a forest fire. After a robbery at the bank in which papers from Box 507 are taken, Modesto discovers documents that reveal the fire was set on purpose. With his wife Angela (Miriam Montilla) in a coma thanks to the robbery, Modesto sets out to even the score. Gangster's henchman Rafael (Jose Coronado), who needs the stolen papers to get back on his boss' good side, is also looking for them. The two men meet in the end when all is revealed.
Critic Reviews for La Caja 507 (Box 507)
Audience Reviews for La Caja 507 (Box 507)
In "Box 507," it has been seven years since Maria(Dafne Fernandez), the teenaged daughter of Modesto(Antonio Resines), a banker, and Angela(Miriam Montilla), died in a forest fire. For them, life goes on. At least, until bank robbers take her hostage, forcing Modesto to open deposit boxes for them, one of which he loses his lunch into. That one also happens to have some very important information for him which he looks into while his wife recovers in the hospital. That box belongs to Rafael(Jose Coronado) and Monica(Goya Toledo) who are in the midst of some very delicate negotiations with the Mafia. "Box 507" takes a methodical and nuanced approach to its multifaceted mystery, as it carefully dispenses information throughout. The central point of which is that there really is nothing more dangerous than a man with nothing to lose. But as intriguing a character as Modesto is(with an excellent performance from Antonio Resines to match), he is also the epicenter of the movie's flaws as it is too hard to believe that such important information just falls into his lap with him also being in a position to successfully decipher it. What could have solved this problem and made this otherwise compelling movie thrive would have been to start with at least one degree of separation between Modesto and the documents.
Don't worry about keeping all the characters straight in your head as you watch this movie....just remember that everyone is bad except maybe the victims. Well done with some very good acting, but not much of a storyline. I found this movie just long, tedious, and I was happy when it was over so that I could send it back.
Cynthia S.
Super Reviewer
La Caja 507 (Box 507) Quotes
There are no approved quotes yet for this movie.