Boy Erased
(2018)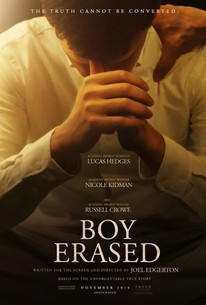 TOMATOMETER
AUDIENCE SCORE
Critic Consensus: Anchored in empathy by writer-director-star Joel Edgerton, Boy Erased proves the road to complex, powerfully performed drama can also be paved with good intentions.
Movie Info
"Boy Erased" tells the story of Jared (Hedges), the son of a Baptist pastor in a small American town, who is outed to his parents (Kidman and Crowe) at age 19. Jared is faced with an ultimatum: attend a conversion therapy program - or be permanently exiled and shunned by his family, friends, and faith. Boy Erased is the true story of one young man's struggle to find himself while being forced to question every aspect of his identity.
Critic Reviews for Boy Erased
Audience Reviews for Boy Erased
Obviously Edgerton's heart is in the right place, but he just can't conceive of the gay characters as anything more than victims, especially Hedges who comes off as a saintly martyr and not much more. This seems designed to appease some heterosexual audience members who just couldn't empathize with a gay human being who was too complex.
Alec Barniskis
Super Reviewer
Movies like this can easily offend people who don't share similar beliefs with the core characters, so please take this review with a grain of salt if you happen to be one-sided about certain topics. Boy Erased is one of the most moving films I've had the pleasure of seeing in 2018. Touchy subjects like these come around quite often, but I feel they are left unseen or forgotten due to people being unsure about the subject matter. Personally, I'm a filmgoer who is up for any kind of sort/visual so as I said, this review should be taken with a grain of salt for some. Here's why I believe, that if for nothing else, Boy Erased is easily one of the best films of the year and deserves much more attention. Told in a non-linear fashion, Boy Erased follows Jared (Lucas Hedges) as he discovers that he is a gay man, but is not accepted by his father, who also happens to be a Pastor. Forced into gay conversion therapy, Jared comes to terms with who he is, whether he is able to change or whether he even wants to, and also realizes how this situation affects others families. This is a difficult film to sit through in terms of emotion, because you're clearly rooting for Jared throughout the entire film and hope that he makes the decisions that make himself happy, but the back and forth he has with his parents is genuinely moving, which may be due to the sheer power that Nicole Kidman and Russell Crowe bring to their roles. I've always been a fan of both Crowe and Kidman, but Crowe, in particular, gives one of his best performances in years. Being a disappointed father who has to come to terms with something he truly doesn't believe in was absolutely heartbreaking, but also infuriating, due to who it affects. Personally, although the story revolves around the character of Jared, I found his father to be the most interesting portion of this film. Although I disliked him at times, he felt the most authentic. He never strayed away from his beliefs and that only deepened his character. From where his character is at the beginning of the film to where he ends up, I found Crowe's performance to be the best that this film had to offer. That being said, Lucas Hedges also delivers a stellar performance here and deserves all of his awards consideration once again. He has become an actor who's slightly type-casted in the "troubled boy" category, but it really is his strength and he plays to it here incredibly. I don't know if he was able to relate to this character as he was portraying him, but it sure seems that way. I was engaged from start to finish, solely due to how well the performances worked for me. The premise itself is also very engaging and moving, but it really comes down to how real these characters feel, which I had no complaints in that regard. Overall, Boy Erased may not be the film for everyone, due to some of the beliefs that some may not follow or agree with, but as a film that's loosely based on a true story, I think it's one of the best made movies this year. From the dour tone and score to go along with it, to the realistic performances, to the screenplay that felt raw and authentic, I found myself in tears by the time the credits began to roll. The emotional journey that each of these characters goes on is worth the price of admission alone. I loved every minute of this film and I highly recommend checking it out.
½
As someone who constantly wrestles with their faith if not necessarily the belief in a higher power, one of the lessons I've personally come to learn in life thus far is that, despite many a country songs telling you to "stand for something or you'll fall for anything," the truth of the matter is that to so deeply steep yourself in one set of beliefs is to ultimately guarantee that you'll eventually (in all likelihood) become a hypocrite. Human beings naturally evolve, we continuously experience new things, and gain greater perspectives on any number of situations all of which inform an ever-developing outlook on the world and the people that populate it. To be so stubborn as to try and categorize these present experiences and interpretations of life through the prism of a single piece of literature written over two thousand years ago only seems counter-intuitive to the abilities and intelligence God has blessed us with, not to mention a rather stressful way to frame ones existence; having to make sure what is inherently felt as right or wrong is supported by doctrine whose composers couldn't have imagined the world or society as it presently stands. There is so much clout given to these rules that outline what our behavior should be that people seem to often lose sight of that inherent voice-your conscious, God himself, whatever you want to label it-that really lets you know when something is right and when something is wrong regardless of what anyone or anything else's stance on the subject might be. That is not to say the Bible isn't helpful, of course it can be and is to millions upon billions of people across the globe, and this is not to imply there aren't certain absolutes of decency that can or should be swayed, but what is being suggested is that to commit so strongly to a single set of ideals is to also make one fear change. To fear change is to stop growing. And to stop growing is to willfully succumb to a limited or narrow view of the world. It is this conflict that Russell Crowe's Marshall Eamons, a Southern Baptist preacher living in Arkansas, faces in director Joel Edgerton's second feature, Boy Erased, when his teenage son is forcibly outed as gay. read the whole review at www.reviewsfromabed.com
Philip Price
Super Reviewer
Boy Erased Quotes
There are no approved quotes yet for this movie.