The Boy Friend
(1971)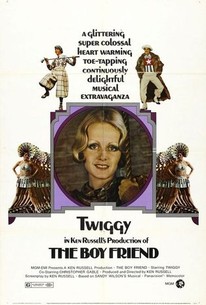 Movie Info
The Boy Friend began life as Sandy Wilson's small-scale pastiche of British musical comedies of the 1920s. When the play was brought to America in 1954, its star was the teenage Julie Andrews. Because The Boy Friend requires a minimum of sets, props, and costumes, it has become a favorite of amateur theater groups throughout the world. But director Ken Russell, notorious for his onscreen excesses, abandoned the film's simplicity. He fashioned a humongous parody of the Busby Berkeley film musicals of the 1930s, staged on a scale that made Berkeley seem stylistically modest. Fashion model Twiggy plays Polly Browne, an aspiring musical comedy star, working as stage manager of a production of The Boy Friend. She is transformed into a star when she replaces leading lady Rita Monroe (Glenda Jackson, unbilled), who twists her ankle seconds before the curtain goes up. Before the evening is over, Polly is scampering over outsized sets, and ducking around seemingly thousands of chorus girls and boys. Christopher Gable, who plays Polly's on-stage leading man, also choreographed the lavish musical numbers. ~ Hal Erickson, Rovi
Critic Reviews for The Boy Friend
Audience Reviews for The Boy Friend
a treat for musical fans, the restored version of flamboyant director ken russell's '71 homage to busby berkeley films, starring twiggy! the film is a bit long, including even an intermission, but it's marvelous flights of fantasy entertained me more than anything i've seen in awhile. russell uses the device of a play within the film, a cheap production mounted by a down and out theater troupe, with the time worn gimmick of the understudy going on for the injured star, a la ruby keeler. 60s supermodel twiggy had admirable screen presence and was a great dancer. an absolute delight. thx tcm!
Stella Dallas
Super Reviewer
½
Over the top but delightful, "The Boy Friend" is director Ken Russell's arch take on a traditional musical. Sandy Wilson's "The Boy Friend" debuted onstage in 1953, but its nostalgic music is rooted in the earlier 23-skidoo era. The story is just an old-fashioned romp of blushing courtship, but Russell knows better than to leave it as is. Instead, he adds an extra narrative layer: His film is about a chintzy staging of the musical, as a mix of naive and nasty actors grumbles through a poorly attended performance. The extra wrinkle is that a famous Hollywood director (name: "Cecil B. DeThrill") has unexpectedly popped into the opera box to scout for new talent. So, the cast is constantly going off-script and grandstanding to win his attention. Sad-eyed Twiggy, the ingenue of all ingenues, stars as the shy stage manager who is forced into the lead role when the usual star (Glenda Jackson, in an unbilled cameo) breaks her leg. She's secretly in love with the male lead (Christopher Gable), so her onstage romantic scenes with him work on two levels. Such backstage issues resonate through the whole cast as philandering, love and bickering bleed into the chaotic show. But hold on -- the film has one more layer, because Russell chooses to present some songs as character fantasies. Thus he avoids the limits of the stage production's intentionally tacky sets, and can indulge the excesses of visual imagination which are his trademark. Such blasts of pure cinema don't match the extravagant props and production design of later spectacles like "Tommy" and "Lisztomania," but they're still bound to make Russell's many naysayers squirm. A bit with elves and giant mushrooms is notably embarrassing, but some other sequences are wonderful. A brilliantly shot passage with dancers on a spinning record turntable (just one of multiple nods to Busby Berkeley's kaleidoscopic choreography) is especially memorable. Twiggy shows surprising talent as both a singer and dancer, bless her waifish heart, and Broadway legend Tommy Tune also shines as a virtuosic tap dancer. Everyone overacts with bulging eyes, exaggerated grins and fourth-wall nods to the camera, but it suits the story. What in the world prevents a film this fun and accessible from being released on DVD? Note: I am reviewing a 138-minute cut. There is another version which is only 109 minutes.
Eric Broome
Super Reviewer
The Boy Friend Quotes
There are no approved quotes yet for this movie.