Boys and Girls
(2000)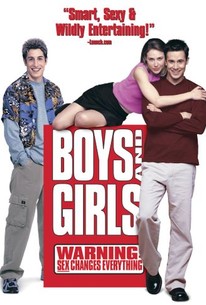 Movie Info
In this romantic comedy, good friends change their feelings about each other over the course of their four years in college. Ryan (Freddie Prinze Jr.) and Jennifer (Claire Forlani) have known each other since grade school, though their oil-and-water personalities don't always mesh. Engineering student Ryan focuses on his studies and future career, while Jennifer likes loud music, partying, and not doing her homework. As they suffer their share of disastrous relationships, these two opposites begin to wonder if they were meant to be more than friends. The supporting cast includes Jason Biggs as Ryan's loudmouth roommate Hunter, Amanda Detmer as Jennifer's neurotic pal Amy, Alyson Hannigan as Ryan's sometime girlfriend Betty, and Heather Donahue, who is no worse for wear after her experiences in the Maryland woods in The Blair Witch Project. Director Robert Iscove also worked with Prinze on She's All That (1999).
Critic Reviews for Boys and Girls
Audience Reviews for Boys and Girls
½
Recently picked this up for $3 second hand. I can remember being disappointed with it back in the 90's, but I couldn't really remember why. The cast are decent including Alyson Hannigan and Claire Forlani. I wondered if I had been harsh originally and decided to give it another go. Well, it all came flooding back. It's just not very good. Alyson is in it about five minutes. Freddie is wooden and Jason Biggs is the kiss of death. I like 90's teen films (generally) but there is much,much better out there. The way these kids talk and act does not ring true at all. For example, the whole scene on the plane - what 13 year old girl would seriously say all that stuff?? I can remember well being mortified, and wanting no one to know. Freddie is also not a good dork. Claire is a decent actress, but she wasn't convincing here either. I think the fault is in the script. It's just not well written, or especially engaging material. she's All That or Whatever it takes were better movies from this era and genre. Although it does pick up a bit at the end. Just takes a very, very long time to get there.
Nicki Marie
Super Reviewer
½
Not bad. Predictable, but still watchable.
Robert Iscove really has a niche. He directed my most pleasing of guilty pleasures, "From Justin to Kelly," as well as the 1999 "Kiss Me" klassic, "She's All That" (which really hasn't held up). In this little-known year 2000 sophomore effort, he combines his penchants for awkward meet-cutes, attracting opposites, and meticulously choreographed impromptu dance parties, and it all goes down smoother than a chicka-cherry cola. The movie shares many familiar ingredients of its predecessor and other 90s teen classics: Freddie Prinze Jr. (this time as the Lainey Boggs-esque nebbish pantywaist, rocking the sk8terboi middle-part), Jason Biggs (as the frosted-tipped doofus), sweet-red Alyson Hannigan, and the requisite everybody-knows-what-they're-doing dance sequence, scored by none other than Fatboy Slim! Although "She's All That" is probably most remembered for that iconic scene, the one here calls for less suspension of disbelief. Jennifer knows the dance moves, and Ryan tries to keep up, more or less succeeding by the end. The club scene is more organically woven into the story than the perfect Prom breakdown. The movie also starts out exactly like the more recent "No Strings Attached" (which probably borrowed from this) - Ryan and Jennifer meet several times over ten years - but unlike the puppets on strings that are the characters of NSA, R+J (heh) do more than navigate the aftermath of casual friend-sex; they navigate a real friendship complicated by the past, present, and future. The storyline isn't groundbreaking, but in comparison to all the movies "Boys and Girls" reminds me of, it has a stronger driving conflict. Claire Forlani is way too old to play a college gal, but she is charismatic, charming, smoldering, delicately bony, breathy, and willowy and wounded as usual. She also rocks some great fashions - that weird hoodie sweater vest/cargo pants/Chucks combo AND that white backless top/wide-leg pants ensemble. Yowza.
Alice Shen
Super Reviewer
Boys and Girls Quotes
| | |
| --- | --- |
| Ryan: | Look, that night was as much a surprise to me as it was to you. But being with you was like going to a place that I had never been before. And after you fell asleep I just laid there, staring up at those cheap fluorescent stars you have stuck on your ceiling, and - after a while they just started forming a pattern, this weird glow-in-the-dark pattern that linked together our entire relationship. And for the first time everything seemed clear to me - like one logical progression. It felt like you and I were the greatest plan ever made and I had nothing to do with it. Being with you made me feel that maybe I didn't have to keep planning anymore because it felt like I was actually living. And that for once in my life I wouldn't have to work so hard at being happy. That it could just happen. Nothing will ever hurt me as much as your reaction to that same experience. |