Boys on the Side
(1995)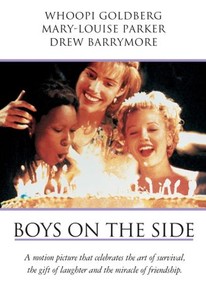 Movie Info
In the tradition of Fried Green Tomatoes, this touching drama focuses upon the relationships of three strong, independent women who come to love and need each other on the way to Southern California. The story begins in New York when Jane, a night club singer, chances to meet Jane, a tense real estate executive on a trip to souther CA. Jane's friend Holly joins them after she and her boyfriend the drug addict have a big fight. When Robin becomes terribly ill, the three must stop in Tucson where they set up a house. Jane, a lesbian, must come to grips with her romantic feelings toward the ailing Robin.
News & Interviews for Boys on the Side
Critic Reviews for Boys on the Side
Audience Reviews for Boys on the Side
This is a movie I have watched many times over the years and have owned in more than one format (VHS, laserdisc and now DVD... and frankly the transfer on the DVD is so crappy if it comes out on blu here, I am all over it!), so that gives you some idea how much I love it and how biased this review is going to be! As far as I am concerned, it is the perfect movie about female friendship... another one that leaves SATC in the pale (fun though those movies might be). Casting is perfect. I am far from a Whoopi Goldberg fan (she normally grates on me), but she is really good in this as Jane, a musician and lesbian who meets up with Robin (Mary-Louise Parker - just perfect here. I had never seen her in anything before this and I was drawn to her portrayal of the slightly dorky but beautiful Robin). Both are looking to leave town for various reasons and decide to car pool to California, though seemingly totally incompatible. Along the way they pick up Jane's friend Holly (Drew Barrymore - also a perfect role for her) who has got herself into a bit of a scrape with her dodgy boyfriend. The three get to know each other better, secrets come out and long lasting friendships are formed. The ending is incredibly sad and moves me to tears everytime without fail. I don't want to say more than that and ruin it for anyone who hasn't seen this. Even though the twist which leads to the end is revealed fairly early on in the movie, you do still kind of hope it will not happen as you just really can't wish any bad on this emotionally scarred character. I had not realised that Matthew McConaughey plays the policeman Holly falls in love with - I have not watched this movie in a few years, and I probably didn't really know who he was at the time. (Now of course he is in just about every chick flick going). He is pretty slimy here - both himself and the character, so I guess he suits it!
Nicki Marie
Super Reviewer
Don't remember much about this one.
Tim Salmons
Super Reviewer
The Best and precious gift ever is laughter and the miracle of friendship.
Boys on the Side Quotes
| | |
| --- | --- |
| Jane: | The farther away from the body I get, the happier I'll be. |
| | |
| --- | --- |
| Robin: | Don't you knock. |
| Jane: | Not in a public toilet, no. |
| | |
| --- | --- |
| Massarelli: | Are you a lesbian too, Ms. Nickerson? |
| Robin: | No, sir, but at times I understand inclination. |
| | |
| --- | --- |
| Jane: | She's holding you back, man. Everyone says so. She's like Yoko with bangs. |