The Boys: The Sherman Brothers' Story
(2009)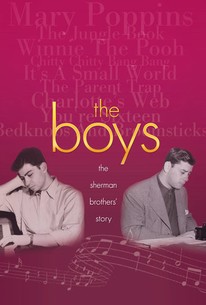 The Boys: The Sherman Brothers' Story Photos
Movie Info
"The Boys" documents the extraordinary lives of two radically diverse siblings: the multi-award-winning songwriting team-- the Sherman Brothers (Robert B. Sherman and Richard M. Sherman). The documentary traces the origins of their remarkable careers--from their childhood and young adulthood, through a six-decade collaboration that included 50 motion pictures and a catalogue of more than a thousand songs for television, records, theme parks and stage.
News & Interviews for The Boys: The Sherman Brothers' Story
Critic Reviews for The Boys: The Sherman Brothers' Story
Audience Reviews for The Boys: The Sherman Brothers' Story
Historical in every possible way, it's hard to remember The Boys is supposed to focus on the men behind the music and not necessarily the music itself. Not because they are uninvolving people, but because the music is beyond legendary. The film falters only in its running time, wanting to cover as much ground as possible instead of worrying about the playability of the product. Not exhaustive, but exhausting. Not flattering, but almost ego stroking. Sure, these two men are legends in some circles, but their personal relationship? It seems like something for the family to work out behind closed doors. Major points for the doc, though, for not ending in the way one would expect. In other words, not like a typical Disney movie.
Jason Vargo
Super Reviewer
A true work of love by two sons whose fathers no longer communicate. Those fathers are the Sherman brothers, authors of most of the charming and sickly sweet Disney movies of the sixties. A grand creativity fueled by the feuding of siblings. It is a story laid out in a very nice package.
John Ballantine
Super Reviewer
½
Although it doesn't quite uncover the dark underbelly of the sunniest songwrites in film history, this swell documentary about the Sherman brothers is full of great I-can't-believe-they-wrote-THAT-too moments and a fairly compelling narrative of the strange, strained relationship the two brothers had (have) behind the surface of Disney smiles. Chim-Chim-Cher-Whee!
Jeff Talbott
Super Reviewer
The Boys: The Sherman Brothers' Story Quotes
There are no approved quotes yet for this movie.