Boys Town
(1938)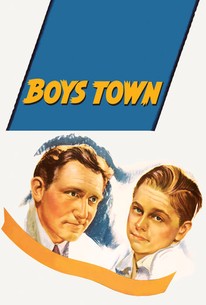 Movie Info
This film focuses on Father Edward J. Flanagan, whose philosophy that no boy will grow up bad if given a chance in life culminates in his formation of Boys Town in Omaha, Nebraska. Unable to raise funds through "proper" channels, Flannagan finds that his staunchest supporters are the workaday folks.
Critic Reviews for Boys Town
Audience Reviews for Boys Town
½
A cute, sentimental movie, which you can't help but like. Tracy is fantastic as Father Flanagan, and that cute kid who plays pee-wee is priceless. Sometimes it was a bit too much sentimentality for me, but if you love true life dramas, you will like this movie.
Spencer Tracy plays Father Flanagan, the creator of Boys Town, in this sentimental film from 1938. Flanagan believed in the motto "There's no such thing as a bad boy" and made it his life's mission to help reform boys who'd been abandoned to the streets or to the various other state institutions (which were so effective at creating better criminals). After being inspired by a death row convict who claimed if he'd had just one friend looking out for him when he was twelve, his life would've been different, Father Flanagan abandoned his soup kitchen and decided to focus on helping young boys instead. Things go great the first few years, that is, until trouble arrives in the form of Whitey Marsh (Mickey Rooney), a street tough who's gangster brother pays to have accepted into the town. Whitey doesn't fit in and apparently doesnt' want to either, putting on a big, tough guy act to try and bully the other kids. It doesnt' work, of course, as most of the kids come from bacgrounds just as tough, if not tougher than him. Mickey Rooney is one of those child actors who is basically a fully formed performer right from the start, and his performance as Whitey Marsh wouldn't be significantly different if delivered as an adult. Spencer Tracy is subtle and understated, perhaps more understated than in any other role in his career, and it's little surprise he won the oscar. The weepiness of Rooney and "Peewee" (Bobs Watson) can be a little comical at times, but kids tend to be very emotional, and I think the performances are appropriate for the characters. A nice little movie.
Devon Bott
Super Reviewer
½
An endearing and lovable film in spite of the fact that it practically drips sap. The sentimentality is so thick at times that it almost seems to parody itself. A schmaltzy classic.
Randy Tippy
Super Reviewer